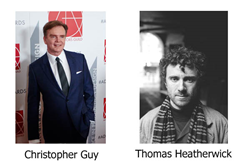 "[Thomas Heatherwick] has been called an 'ideas engine' and the highly creative, diverse output from his studio has been truly extraordinary," said Christopher Guy Harrison.
West Hollywood, Calif. (PRWEB) March 18, 2015
Internationally-renowned luxury furnishings creator Christopher Guy Harrison will present the 2015 BritWeek Design Icon Award to innovative British designer Thomas Heatherwick at a private event at Christopher Guy's stunning West Hollywood showroom, 8900 Beverly Blvd, at 7:30pm on Wednesday, April 29, 2015.
Heatherwick, who is founder of London's Heatherwick Studio, has been called a "Leonardo da Vinci of our times" by his early patron, famed British designer Terence Conran. Heatherwick's designs have included the Olympic Cauldron for the 2012 London Olympic Games, a curling pedestrian bridge in Paddington, London, a striking store front in New York for French company Longchamp, a prize-winning UK Pavilion at the 2010 Shanghai World Expo, and the first re-design in 50 years of London's iconic 'Routemaster' red double-decker bus. Heatherwick has been honored (CBE) by Her Majesty The Queen, and the studio's work is currently the subject of two touring exhibitions in Asia and North America.
The award ceremony will be a signature event of this year's BritWeek – an annual festival highlighting creative links between Britain and California (now also including a satellite festival in Miami, Florida). Previous recipients of the Design Icon Award have included London-based interior designer Nina Campbell, Jaguar Design Director Ian Callum and Royal Milliner Philip Treacy.
"I am so thrilled to be presenting this year's BritWeek Design Icon Award here in West Hollywood to Thomas Heatherwick," said Christopher Guy Harrison. "He has been called an 'ideas engine' and the highly creative, diverse output from his studio has been truly extraordinary. I cannot imagine a more worthy recipient."
The Christopher Guy brand is itself known as a creator of the world's most fabulous lifestyles, with a global footprint in luxury residential and hospitality industry design.
For further press information—and to submit a request for media credentials for the Wednesday, April 29th BritWeek Design Icon Award event at 7:30pm at the Christopher Guy Showroom in West Hollywood (8900 Beverly Blvd)—please contact Ms. Birgit Müller, Christopher Guy Brand Ambassador, + (323) 332-9520, or email: birgit(at)brandamb(dot)com
Please register for media credentials no later than Tuesday, April 28th as space will be limited.