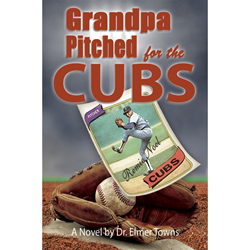 CLOVIS, CA (PRWEB) March 17, 2015
Heritage Builders Publishing has announced that it will publish "Grandpa Pitched for the Cubs," the first novel from best-selling author and Liberty University founder, Dr. Elmer Towns. The sports fiction novel will be available everywhere on May 15, 2015.
"Grandpa Pitched for the Cubs" tells the story of Remle Noel, a young high school pitcher who dreamed of pitching baseball professionally. He developed a unique talent—a killer knuckleball—that made him the eventual darling of Wrigley Field fanatics.
But Remie's dreams were nearly derailed when he accidentally killed a man who was attacking a woman in a darkened Chicago alley. He stopped the rape, but his index finger was shot off during the struggle. Remie managed to keep the murder a secret after an automobile accident driving away from the crime scene gave him a plausible explanation about why his index finger was missing.
While Remie struggles with his secret, a police officer struggles with his obsession to find the man with a missing index finger. Will the Cubs finally make the World Series? Will Remie pitch in the World Series? What happens when the cop and Remie finally meet? And what secrets remain to be discovered that could change everything?
About the Author
Elmer Towns is the cofounder of Liberty University, the largest private nonprofit university in the world. Towns is also a prominent Christian leader, author, and speaker on the principles of church growth, church leadership, Christian education, Sunday School, prayer and fasting. He has authored over 170 books, eight of which are listed on the Christian Booksellers Bestselling List. In 1995 he received the Gold Medallion Award from the Evangelical Christian Booksellers Association for Book of the Year in Biblical Studies, "The Names of the Holy Spirit." Most recently, Dr. Towns served as the Dean of the B. R. Lakin School of Religion, Dean of the Liberty University Baptist Theological Seminary, and Distinguished Professor of Systematic Theology at Liberty University. In the fall of 2013, Towns announced he would be taking a sabbatical from his teaching and administration duties to focus on speaking and writing. He lives in Lynchburg, VA.
About Heritage Builders Publishing
Heritage Builders Publishing was launched in 2009 with a mission of publishing Christian books geared to help the family. Heritage Builders' current titles include the "Serendipity" series from best-selling Children's book author Stephen Cosgrove, "The Legend of George Jones" from Charlene and Earl "Peanutt" Montgomery, Grammy winner Rick Hall's autobiography, "The Man from Muscle Shoals" and the best-selling "Family Nights Tool Chest," first introduced by Focus on the Family in the late 1990's. For more information about Heritage Builders Publishing, visit http://www.heritagebuilders.com.