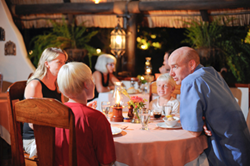 A vacation together can strengthen bonds and create memories that last forever. It's amazing how much there is to learn about each other once the TV sets are turned off
San Ignacio, Belize (PRWEB) March 20, 2015
The Lodge at Chaa Creek has just announced special Belize summer vacation packages designed to bring grandparents and younger members of the family closer together by sharing adventures and learning new skills together.
Roberto Harrison, Chaa Creek's marketing administrator, said that a new emphasis will be placed on activities that more mature travellers and younger adventurers can share at Chaa Creek this summer.
"Chaa Creek has always been family friendly, and for over thirty years we've seen how sharing adventures together can bring family members closer together, regardless of their age or interests," Mr Harrison explained.
"It's great to watch the generation gap disappear when kids and older members of the family are engaged in doing something different, such as canoeing down a jungle river, learning about a different culture or picking up new skills like identifying birds or even horseback riding.
"A vacation together can strengthen bonds and create memories that last forever. It's amazing how much there is to learn about each other once the TV sets and other modern distractions are turned off," he added.
Chaa Creek's Belize Family Summer Adventure vacation, running from June to September 2015 includes a special all-inclusive Inland Adventure package and "add-ons" to existing packages and activities just for grandparents who are travelling with younger members of the family.
Mr Harrison said that the idea for the program came from observing families over the years at Chaa Creek.
"We noticed how much families seemed to rediscover and really enjoy each other's company during their time at Chaa Creek, so we came up with new all-inclusive Belize vacation packages to make it easier for people of all ages get the most out of their time together here," he said.
Mr Harrison explained that Chaa Creek's Belize Family Summer Adventure all-inclusive vacation package includes everything for a complete summer holiday, from transfers, accommodation, meals, activities, transfers and even staff gratuities.
"By including everything needed for a complete summer vacation,grandparents and kids can spend their time enjoying each other's company rather than planning, itemising each and every thing and dealing with all those bits and pieces that seem to crop up on even the most well planned vacation. And best of all, since everything is included in one affordable set price, there's no surprises at the end of the holiday," he added.
In addition to eco-luxe accommodation and all meals, The Belize Family Summer Adventure package includes a range of activities such as canoe trips down the Macal River, horseback riding or mountain biking through jungle trails, guided morning bird watching and nature hikes along jungle trails and more, as well as complete access to Chaa Creek's 365 acre private nature reserve with miles of jungle trails connecting a butterfly farm, the Natural History Museum, infinity pool, Jungle Lounge, Mariposa restaurant, Maya medicinal plant trail and organic farm and more.
"Some travel agents refer to Chaa Creek as Belize's'Destination within a Destination' because there's so much to do right here, and with an emphasis on healthy activities and meals using fresh ingredients from our Maya organic farm, locally raised livestock and seafood from Belize's pristine Caribbean, people of all ages can enjoy a vacation that leaves them healthier than when they arrived.
"Of course, we appreciate that people come on vacation to relax, so there's plenty of opportunities for playing board games, lounging in hammocks on your private veranda or by the poolside. All of our packages have built-in flexibility so guests can decide to do as much, or as little as they like, and at their own pace," Mr Harrison said.
For visitors who don't opt for the all-inclusive Belize vacation packages, Chaa Creek is including special summer "add-ons" such as a personal guide for family nature walks, tubing down the Macal River and other activities that people of all ages can enjoy.
"The point is for the older and younger members of the family to spend time together. Mom and dad may wish to stay home to work, enjoy their own private time together, or come join the kids and grandparents.
"All grandparents need to do is contact Chaa Creek directly, or through their travel agents, and ask about the Belize Family Summer Adventure. Just make sure you let us know that you wish to take advantage of the grandparents and kids offer.
"Whichever ways guests choose to take advantage of Chaa Creek's Belize Family Summer Adventure Offer, we're sure that their time together will be exciting, the experience will be priceless, with memories that will be cherished forever" Mr Harrison added.
The Lodge at Chaa Creek is a multi award winning eco resort set within a 365 acre private nature reserve along the banks of the Macal River in Belize.
ENDS