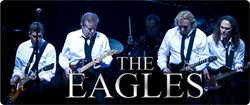 New York, NY (PRWEB) March 18, 2015
One of the most prolific rock groups of all time, The Eagles, have announced additional dates on their "History of the Eagles Tour." The tour, which was officially kicked off in July 2013 has already taken them across Europe, Oceania, and North America, and will continue to bring them to cities around the United States and Canada throughout 2015. The tour was set to conclude this month, but will now conclude on July 29th in Bossier City, LA. The first of the new dates recently announced will take place in Austin, TX on May 19th.
The Eagles 2015 Tour Dates:
5/19/15
The Eagles Tickets, Austin, TX Frank Erwin Center
Tuesday, May 19, 2015
5/20/15
The Eagles Tickets, Oklahoma City, OK Chesapeake Energy Arena
Wednesday, May 20, 2015
5/22/15
The Eagles Tickets, El Paso, TX Don Haskins Center
Friday, May 22, 2015
5/24/15
The Eagles Tickets, Las Vegas, NV MGM Grand Garden Arena
Sunday, May 24, 2015
5/26/15
The Eagles Tickets, Bakersfield, CA Rabobank Arena
Tuesday, May 26, 2015
5/28/15
The Eagles Tickets, Eugene, OR Matthew Knight Arena
Thursday, May 28, 2015
5/29/15
The Eagles Tickets, Spokane, WA Spokane Arena
Friday, May 29, 2015
5/31/15
The Eagles Tickets, Boise, ID Taco Bell Arena
Sunday, May 31, 2015
6/2/15
The Eagles Tickets, Billings, MT Rimrock Auto Arena (Formerly Metrapark Arena)
Tuesday, June 02, 2015
6/4/15
The Eagles Tickets, Sioux Falls, SD Denny Sanford Premier Center
Thursday, June 04, 2015
6/5/15
The Eagles Tickets, Grand Forks, ND Alerus Center
Friday, June 05, 2015
6/7/15
The Eagles Tickets, Green Bay, WI Resch Center
Sunday, June 07, 2015
7/10/15
The Eagles Tickets, Miami, FL American Airlines Arena
Friday, July 10, 2015
7/12/15
The Eagles Tickets, Greenville, SC Bon Secours Wellness Arena (formerly Bi-lo Center)
Sunday, July 12, 2015
7/13/15
The Eagles Tickets, Charlottesville, VA John Paul Jones Arena
Monday, July 13, 2015
7/15/15
The Eagles Tickets, Hartford, CT XL Center - (Formerly Hartford Civic Center)
Wednesday, July 15, 2015
7/17/15
The Eagles Tickets, Atlantic City, NJ Boardwalk Hall Arena - Boardwalk Hall
Friday, July 17, 2015
7/18/15
The Eagles Tickets, Buffalo, NY First Niagara Center (formerly HSBC Arena)
Saturday, July 18, 2015
7/20/15
The Eagles Tickets, Baltimore, MD Royal Farms Arena
Monday, July 20, 2015
7/22/15
The Eagles Tickets, Dayton, OH EJ Nutter Center
Wednesday, July 22, 2015
7/24/15
The Eagles Tickets, Detroit, MI Joe Louis Arena
Friday, July 24, 2015
7/25/15
The Eagles Tickets, Lexington, KY Rupp Arena
Saturday, July 25, 2015
7/27/15
The Eagles Tickets, North Little Rock, AR Verizon Arena (formerly Alltel Arena)
Monday, July 27, 2015
7/29/15
The Eagles Tickets, Bossier City, LA CenturyLink Center - LA
Wednesday, July 29, 2015
The Eagles have been together since 1971 and with the exception of a hiatus from 1980 through 1994, have been producing music together ever since. They joined together in Los Angeles, CA and have become one of the most influential groups in the history of American rock music. The group has released five No. 1 singles in their history, while also winning six Grammy Awards, five American Music Awards, and has released a total of six No. 1 albums. When the 20th century came to a close, the Eagles had two of their albums crack the top 20 list for the best selling albums according to the Recording Industry Association of America in the United States.
The Eagles have sold more than 150 million units around the world including more than 100 million in the United States alone. Of those 100 million sales, more than 40 million came from their album, Their Greatest Hits, and more than 30 million came from Hotel California. The latter, which was released in 1976, is their best selling studio album and is one of the most successful albums of all time. The album featured such hits as No. 1 singles "New Kid in Town" and "Hotel California," as well as top 20 single, "Life in the Fast Lane."
In addition to the songs from Hotel California, fans will hope to hear the legendary group perform such hits as "Take it Easy," "Best of My Love," "Heartache Tonight," "The Long Run," "Love Will Keep Us Alive," and "No More Cloudy Days."
Among the latest venues added to their 2015 schedule include the MGM Grand Garden Arena in Las Vegas, NV; American Airlines Arena in Miami, FL; XL Center in Hartford, CT; Boardwalk Hall Arena in Atlantic City, NJ; and Taco Bell Arena in Boise, ID.
About TicketDown.com:
Ticket Down delivers tickets to sold out concerts and events worldwide when no one else can, and they do so at discounted prices. This popular ticket exchange also has authentic The Eagles tickets for all tour dates. Find The Eagles front row seats, floor seats, VIP seating, general admission (GA), parking passes and more. Fans can add promo code THE-EAGLES-2015 for added savings.
Note: Ticket Down is not associated with any of the artists or venues mentioned in this release. The names that are used in this release are purely for descriptive purposes. We are not affiliated with nor do we endorse any artists or venues in this release.
Check out our discount codes online for all upcoming events. Ticket Down has low overheads which allow this well-known ticket site to keep prices competitive.