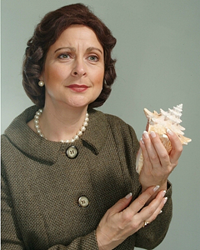 Cumberland, MD (PRWEB) March 18, 2015
Women's History Month draws to scientific conclusion Tuesday, March 24, with an event that celebrates accomplished women of the past as it encourages today's young women toward careers in science, technology, engineering and math.
"STEM and Beyond: Exploring the Possibilities" is the fourth annual Women's History Celebration and Networking Event at Allegany College of Maryland. This evening event is free of charge and open to students, parents and the general public.
Participants may check in at the Science Building starting at 6 p.m. There, they will have the opportunity to tour the building's classrooms and laboratories and to view exhibits and displays relating to STEM.
The program begins at 6:30 p.m. in the Zimmer Theatre of the adjacent College Center. Linda Mahoney, past president of the Maryland NOW (National Organization for Women); Dr. Cynthia Bambara, ACM's president; and Cherie Snyder, ACM professor and human service associate program director, will offer introductions and a welcome to the college.
Christina Badger, microbiologist and ACM visiting instructor, focuses on the main topic with her talk, "Empowering Future STEM Leaders." She gave the keynote address, "Girls Make Great Scientists," at ACM's highly successful "Girls 2 Scientists" event last month.
Entertainer Kate Campbell Stevenson will portray key figures from "Forging Frontiers: Women Leaders in STEM," a program she developed to present positive and courageous female role models to girls and young women.
The Silver Spring writer and director will appear as marine biologist and environmentalist Rachel Carson and explorer Louise Arner Boyd, who financed, planned and led seven Arctic expeditions.
Campbell Stevenson developed Forging Frontiers to help break through cultural biases, provide inspiring STEM role models and encourage female students to explore STEM subjects and career options.
Following the performance, there will be recognition of women in STEM and of local women who are leaders in public service.
This Women's History Month Celebration is sponsored by Maryland NOW in collaboration with ACM's Science Division, Student Government Association, Human Service Associate Program and Democracy Commitment.
Reservations are recommended, although not required. Inquiries may be directed to Shamrock20901(at)gmail(dot)com. Local inquiries can be made to Snyder at 301-784-5556. Information is also available on the ACM website, http://www.allegany.edu.