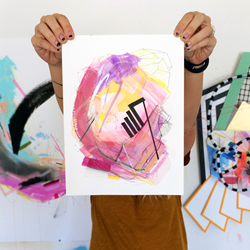 San Francisco, CA (PRWEB) March 19, 2015
On Sunday, March 22 9-11am PST, Chairish.com, the coveted, online vintage decor and accessories marketplace, will host the first ever live "open studio" art event via their Instagram account. To participate in the sale, go to http://www.instagram.com/chairishco and watch as new artworks are posted and sold throughout the morning.
The event will feature original artwork for sale created by seven artists including tastemakers Design Milk founder Jaime Derringer, Emily Katz of Modern Macrame, and Kristi Kohut of Hapi Art. All artwork will be affordably priced at $125 (including shipping) and will range in media, including paintings, illustrations and textile art.
This is the newest innovation for #ShopChairishLive, Chairish's series of monthly, curated, live sales conducted via Instagram. Previous sales featured leading tastemakers selecting home decor from legendary flea markets that were then sold real time on Chairish's Instagram.
Judging by the success of previous #ShopChairishLive events, where excited followers snapped up items in less than 10 seconds, Chairish's Instagram art sale is not to be missed.
The March 22 event on Instagram coincides with Chairish's much expanded art offering, which has doubled to 5,000+ items and includes a new emphasis on original works from emerging artists.
Founder and Chief Curator, Anna Brockway states, "Nothing transforms a space faster than a beautiful piece of art. Our expanded offering gives art lovers a rich selection of both vintage and original art at accessible prices. For artists looking to set up an online storefront, we offer a super easy-to-use platform where Chairish handles all the pesky administrative and shipping logistics." Prices on the site for both vintage and original works start at $100.
About Chairish
Chairish.com and their mobile app make it fun and easy for design lovers to buy and sell vintage and pre-loved furniture, decor, jewelry and accessories. Chairish exclusively features curator-approved treasures in a full service and trustworthy environment. The site delivers inspiration, convenience, and newfound value to both buyers and sellers who share an obsession with fabulous finds.