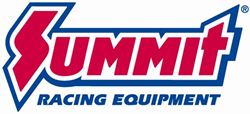 Tallmadge, OH (PRWEB) March 24, 2015
Using what it learned building transmissions for top-tier racing programs, Richmond Gear has created gearboxes tailored to street-driven performance vehicles. Richmond Gear Super Street 5-Speed Transmissions can handle 600 ft.-lbs. of torque, making them perfect for hot rods, musclecars, and race cars.
Richmond Gear Super Street 5-Speed Transmissions are made in the USA, using precision machining and gear cutting technology. The gears are installed in a Richmond Gear race-proven transmission housing. This process ensures that each transmission can handle the increased power output of a performance engine.
The transmissions are available for small/big Chevy, BOP V8, and small/big Ford engines. Builders can select from several different gearing sets. Fifth gear on every transmission is a 0.77:1 ratio overdrive, which improves fuel economy in vehicles that see a lot of highway driving.
Summit Racing Equipment
http://www.SummitRacing.com
1-800-230-3030