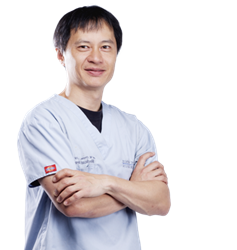 New York City, New York (PRWEB) March 22, 2015
If Dr. Emil Chynn of Park Avenue LASEK doesn't make his patients "20/15 in 2015™", the patient gets the entire cost of their Non-Invasive, High-Def LASEK back. After making most of his patients better than 20/20, Dr. Chynn wanted to put his money where his mouth is and trademarked "20/15 in 2015™". When Dr. Chynn trained at Harvard, Columbia, Dartmouth and Emory, such a guarantee would be unimaginable. Now, because of Dr. Chynn's innovations in LASEK (not LASIK), Park Avenue LASEK can not only "walk the walk" but actually "talk the talk".
Dr. Chynn's preceptor and the Father of Refractive Surgery George Waring III, MD coined a similar phrase as a goal but never believed any surgeon would be able to guarantee this. So Dr. Chynn wanted to pay tribute to the recently-deceased legend of laser vision correction with his own guarantee.
"How can Dr. Chynn guarantee better than 20/20 -- is that even possible?" Yes -- because of CustomVue, High-Definition Laser Vision™ Correction, it is possible to correct someone's prescription 25x more accurately than glasses/contacts so they see better than 20/20! These technological advances combined with the use of the Non-Cutting LASEK procedure Dr. Chynn helped invent at Harvard means that 20/15 or even 20/10 vision (twice as good as a "perfect" 20/20) is now a standard result at Park Avenue LASEK.
Dr. Chynn isn't promoting LASEK over LASIK because that's what he's doing. He was actually the 1st eye surgeon in the NY Tri-State area to get LASIK himself (in 1999), and suffered from dry eyes and night glare afterwards. So he switched from performing LASIK to LASEK to avoid those problems for his patients--and it worked! LASEK can also fix the visual problems of patients who've had LASIK--like those who were recently featured in an episode of "Dr. Oz." Dr. Chynn is so confident he can fix LASIK problems, that he is willing to have any patient who was on that episode come into his office, and he will fix their problem--for free! He wrote an article on how to use PreVue technology to show such patients exactly how they would see after a HD enhancement of their prior suboptimal LASIK--before they decide to proceed!
"20/15 in 2015™" is not the only unique project Park Avenue LASEK is launching in 2015. Always at the forefront of ophthalmology, Dr. Chynn will be the first surgeon in history to LASEK himself. He will continue to push boundaries through his corneal tattooing and eye jewelry procedures while still treating extreme prescriptions that no one else can. In 2015, Dr. Chynn is looking to break his own world-record for successfully lasering the highest prescription in history: -24.00. This patient is seeing better than he ever did in glasses or contacts.
For more information or to schedule an interview with Dr Chynn, please contact (212) 741-8628 or media(at)ParkAvenueLASEK(dot)com