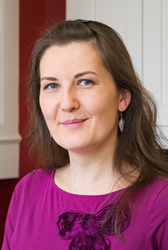 I look forward to helping Eugene clients transform their home to their unique vision and living style, including the Pacific Northwest architectural style that is a personal favorite.
Eugene, OR (PRWEB) March 19, 2015
Neil Kelly Company announced today that Magda Zafer has joined its design-build remodeling staff as design consultant in Eugene. She brings a wealth of design experience and expertise to Neil Kelly, including multiple certifications and national awards for remodeling projects.
Working in parallel with award-winning design consultant and Eugene General Manager Matt White, Magda will serve Eugene clients interested in large and small remodeling projects including kitchens, baths, additions, whole home renovations, custom home building and ultra-energy-efficient Passive House construction.
Zafer recently relocated to Eugene from Champaign, Ill., where she received her master's degree in architecture and served as a designer for seven years, first with a custom construction company and then opening her own design services firm.
Her designs have earned national recognition including gold-level Master Design Award from Qualified Remodeler Magazine and gold-level Best of the Best Design Award from Professional Remodeler. She holds multiple certifications including certified kitchen designer, certified bath designer, certified aging-in-place specialist, and certified green professional. She also is a certified passive house consultant. Her projects have been featured in several Midwestern magazines.
"During my years in Illinois I often heard about Neil Kelly Company through various industry media. I have always admired the company for its quality work, wealth of creative talent, and its responsible approach to construction and remodeling. It took one short visit to Eugene to know I wanted to work there," said Zafer. "I am looking forward to helping Eugene clients transform their home to their unique vision and living style, including the Pacific Northwest architectural style that is a personal favorite."
"We are very excited to have Magda on board," said Matt White. "Neil Kelly's Eugene remodeling business is growing and her impressive background and expertise will enable us to serve more clients in a broad range of projects."
About Neil Kelly
Neil Kelly Company, a certified B corporation, is an innovative residential design-build remodeling firm helping homeowners care for all aspects of their homes. Services include custom homes, award-winning design-build remodeling, energy upgrades, solar panel installation, and home repairs big and small. With five Pacific Northwest locations in Eugene, Bend, Portland, Lake Oswego, and Seattle, Neil Kelly is renowned for its quality craftsmanship and sustainable building practices. Homeowners are invited to visit Neil Kelly design centers or attend free educational workshops. Visit http://www.neilkelly.com.
###