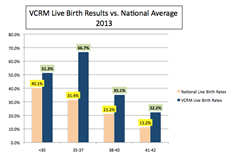 2013 was a banner year for the practice and we are very proud to be mentioned among the Top IVF clinics in not only the Washington DC metro area but also the entire United States
Reston, Virginia (PRWEB) March 23, 2015
Virginia Center for Reproductive Medicine (VCRM) is excited to announce the results of its calendar year 2013 IVF treatment cycle.
The clinic administered achieved the following results in 2013:

66.7% live birth rate for women in 35-37 age group (21 cycles performed)
51.3% for women under 35 (39 cycles performed)
35.1% for women 38-40 (37 cycles performed)
22.2% for women 41-42 (9 cycles performed and 2 live births achieved).
Of particular note, > 50% of cycles in women less than 38 had an elective single embryo transfer (eSET) (one of the highest use of eSET in the US). VCRM has been at the forefront of programs trying to decrease the multiple pregnancy rate and therefore the complication rates for mothers and babies, a practice we started in 2004.
These live birth results for IVF treatment are in fact one of the best that VCRM has enjoyed during the clinic's distinguished history. Detailed results are available in the 2013 National results for ART, released March 3, 2015 on the Society of Assisted Reproduction (SART) website.
SART is the primary organization of professionals dedicated to the practice of assisted reproductive technologies (ART) in the US and it publishes an annual report of birth outcomes from its member clinics. The information is disclosed for patients to make informed decisions and compare success rates with different clinics*.
Fact: When compared to the National averages published by SART, Virginia Center for Reproductive Medicine posted 76% better live birth results.
This stat confirms that VCRM patients have a 76% greater likelihood of delivering a baby each cycle, which ultimately means that couples challenged with fertility can achieve their goal of having a baby sooner while experiencing lesser emotional and financial toll.
Additionally, Fertilitysuccessrates.com – an independent IVF data aggregator website – ranked VCRM second in the nation in 2013 for "Best IVF Clinics In United States For Women 35-37 Using Fresh Embryos".
Dr. Sharara, Founder and Medical Director of VCRM, stated, "2013 was a banner year for the practice and we are very proud to be mentioned among the Top IVF clinics in not only the Washington DC metro area but also the entire United States."
About Dr. Sharara:
Dr. Sharara is a world-renowned expert in the field of Obstetrics and Gynecology. His practice (VCRM) is located in Reston, Virginia and has a reputation for consistently posting one of the highest success rates for ART on the East Coast. The clinic prides itself on its "boutique" setting along with its personalized and customized treatment plans. Dr. Sharara regularly treats patients from around the globe and the clinic has become the go-to place for many patients who have failed to achieve success at other fertility centers.
*A comparison of clinic success rates may not be meaningful because patient medical characteristics, treatment approaches, and entry criteria for ART may vary from clinic to clinic.