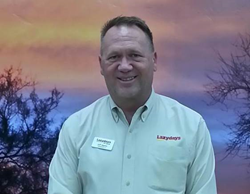 I am very humbled and honored by this opportunity. Watching a salesperson grow from rookie to seasoned pro is one of the most fulfilling parts of my job here at Lazydays.
Tampa, Florida (PRWEB) March 20, 2015
Lazydays, the RV Authority and world's largest RV dealership, announced that Jeff Agans has been promoted to Sales Manager of the Airstream Store at its Tucson, AZ location. With over 30 years in the RV service and sales industry, Agans will bring an unparalleled wealth of industry experience and knowledge to Lazydays' Airstream Store and Internet Sales teams.
Agans will be responsible for managing the sales process by ensuring all leads are followed up with on a timely manner. He will oversee and work alongside a dedicated Airstream, internet, and retail parts store team. Aside from overseeing daily sales activities, he is responsible for training and mentoring the company's sales team through the Lazydays' sales process all the while ensuring each customer is provided with the best-in-class service.
"We are thrilled to have Jeff step into the role of Sales Manager of the Airstream Store at Lazydays," said Chris Trapeni, General Manager of Lazydays in Tucson. "He has done extremely well at every level in Tampa, and we are excited about the expertise and experience that he brings to our Airstream Store and our loyal Airstream customers."
Agans first joined Lazydays as a mechanic in 1986, and has held several positions over the years including technician, service advisor and salesperson. During his tenure in Tampa, Agans taught a training class titled "Evolution of Diesel Market" and in 2011 he was named one of the top five salespersons in Tampa. He was also recognized as one of the Top 10 Tiffin Salespersons at Lazydays.
Agans was introduced to the RV lifestyle at a very young age. His parents owned a small RV dealership in Illinois where his father taught him the importance of providing quality customer service and gave him hands-on experience in servicing RVs. The Agans family is enjoying their new life in Tucson.
"I am very humbled and honored by this opportunity. Watching a salesperson grow from rookie to seasoned pro is one of the most fulfilling parts of my job here at Lazydays," said Jeff Agans, Sales Manager of Lazydays in Tucson. "I really enjoy training employees and introducing them to the Lazydays culture, which is helping other people grow in their professional career."
About Lazydays
Lazydays®, founded in 1976, is the world's largest RV dealership. Based on 126 acres outside Tampa, FL since 1996 and over 30 acres in Tucson, AZ since 2011, Lazydays has the largest selection of RV brands in the nation. Lazydays features nearly 300 service bays, more than 1,700 new and pre-owned RVs, and 2 onsite campgrounds with over 700 RV campsites. Lazydays has built its reputation on providing an outstanding customer experience with exceptional service and product expertise, and as a place to rest and recharge with other RVers. More than a quarter million RVers and their families visit Lazydays every year, making it "their home away from home." Lazydays has been recognized as one of "Top 50 RV Dealer" by RV Business and one of Tampa Bay's "Top Work Places." The Lazydays Employee Foundation, supported by payroll contributions from over 70% of Lazydays' employees, has contributed more than one million dollars to make many historic changes for at-risk children in the Tampa Bay and Tucson communities. For most people, Lazydays isn't just the beginning of their journey; it's very much a part of their ride. To learn more, visit http://www.Lazydays.com.
###