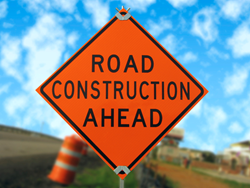 LINCOLN, R.I. (PRWEB) March 19, 2015
Monday, March 23, through Friday, March 27, is National Work Zone Awareness Week. That's why Amica Insurance is sharing tips to help motorists stay alert as they drive through these potentially dangerous areas.
According to the U.S. Department of Transportation's Federal Highway Administration (FHA), fatal work zone crashes occur most often during the summer and fall. Additionally, the majority of these crashes take place on roads where the speed limit is higher than 50 mph.
The FHA suggests the following when driving through a work zone:

Pay close attention to the roadway. Avoid using a cellphone, eating or changing the radio station.
Merge well before reaching a closed lane. Also, be aware that traffic patterns may change daily.
Follow the posted speed limit, as workers may be nearby. Be ready to slow down even further if conditions dictate it.
Be prepared for the unexpected. Other vehicles may change lanes or stop without warning.
About Amica Insurance
Amica Mutual Insurance Co., the nation's oldest mutual insurer of automobiles, was founded in 1907. The company, based in Lincoln, Rhode Island, is a national writer of auto, home, marine and umbrella insurance. Life coverage is available through Amica Life Insurance Company, a wholly owned subsidiary. Amica employs more than 3,400 people in 44 offices across the country. For more information, visit Amica.com.
CONTACT: Vince Burks, Corporate Communications, 50 Amica Way, Lincoln, RI 02865-1155, 800-652-6422, ext. 24563
Twitter: Amica
Facebook: Amica Mutual Insurance Co.