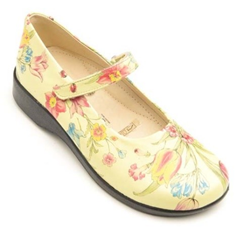 Arcopédico's whimsical Scala Mary Jane flats are the ideal strap-on and go shoe for spring.
Sparks, NV (PRWEB) March 20, 2015
Arcopédico USA the only US distributor of high-quality, Portuguese-made comfort and travel footwear, features floral inspired flats just in time for spring.
Arcopédico's flowers are made to last from Easter day to Mother's Day and all year long. These flats feature their patented twin arch support sole and are anatomically-designed to give mom's feet superior support and all day comfort.
Arcopédico's whimsical Scala Mary Jane flats are the ideal strap-on and go shoe. Featuring a floral bouquet print on a soft flexible leather outer, a single hook & loop Velcro® strap closure for an adjustable fit, and a cushioned leather-lined insole; these flats will be her go-to shoe for springtime splendors. (Scala, MSRP: $140 – available in White Flowers, Green Flowers, Orange Flowers, and 5 solid colors)
April showers bring May flowers, and Arcopédico's Flower slip-on flats are in early bloom. Understated with delicate flower cut-outs across the vamp; these flats are made with a high-quality, soft leather upper, and a wide foot bed. Two stretchable crisscrossing straps offer a secure, non-restrictive fit. (Flower, MSRP: $130 – available in Indigo, Green, Purple, Pewter, Bronze, and Black)
For the mom who loves to travel, the L14 flats make the perfect Mother's Day gift. She will breeze through TSA with these self-adjusting slip-on flats. Featuring an anatomically-designed foot bed, these flats encourage sightseeing strolls. Made with Arcopédico's patented vegan Lytech® material outer; the L14 conforms to the foot's natural shape and are breathable, flexible, washable, and water-resistant. (L14, MSRP: $90 - available in Pearl Flowers and Brown Flowers, also available in 8 solid colors)
About Arcopédico® USA - Arcopédico USA shoes can be purchased at independent shoe retailers throughout the United States. Simco Imported Shoes, Inc. is the sole U.S. distributor of Arcopédico shoes. A family business, the company was formed in 1983 by Manuel and Virginia Simas after discovering Arcopédico shoes during a trip to Portugal. Arcopedico shoes are hand-made in Portugal. Arcopédico USA is located at 1480 Kleppe Lane, Sparks, NV 89431. For more information, contact the company at (775) 322-0492, or visit http://www.ArcopedicoUSA.com. For more information, samples or images, editorial media may contact Karen Beaudin at Karen(at)bullpenpress.com.
For PDF version of this release, click here.