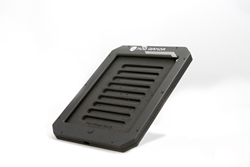 The Elite Series Case is just the beginning of a forward thinking strategy
San Luis Obispo, CA (PRWEB) March 24, 2015
Based out of California, Mob Armor has been paving the way for smart phone and tablet accessories in the off-road market. With a current range of mounting systems and tablet enclosures, Mob Armor provides customers with field-tested products that have been proven to handle the toughest off-road conditions. Mob Armor continues to pioneer product development in the Off Highway Vehicle industry with the release of their limited edition Elite Series Case.
"The design of this Elite Series case was heavily influenced by our team's personal experience while off-roading, along with the customer feedback we were receiving," stated Joel Hitchen, the Lead Engineer for Mob Armor. "Up until now, people didn't feel comfortable taking their tablets off-roading, but this enclosure is definitely a game changer."
Each case is hand-assembled and all components are made from machined aluminum in California. The case completely encloses the tablet, without compromising the functionality of the device and still allows the user to run applications, such as navigation software while driving. The product is designed with multiple mounting options from VESA standard 75 mm to other popular mounting systems. This allows for a quick release system to be incorporated, so that one device can be used in multiple vehicles.
"The Elite Series Case is for those customers who require the best products in their vehicles and are looking for a competitive edge," stated Trevor Orrick, Vice President of Sales.
The Elite Series Case has been race-tested and shock-tested to ensure its reliability in the toughest off-road conditions. In March 2015, #92 Curtis Motorsports/Chuck Dempsey Motorsports Trophy Truck was the first to use iPad navigation with the Elite Series case. Chuck Dempsey and Kevin Curtis, professional off-road racers, used the case during the Mint 400. Chuck Dempsey stated, "The Mob Armor case did its job by protecting the iPad from the severe conditions like dust, rocks, wind, and of course the crazy pounding that these 5000-6000 pound vehicle take at 100+ miles per hour and everything else the Mint 400 could throw at it. The Mint 400 is one of the roughest race courses on the Best In The Desert [BITD] circuit, and we are glad to be working with Mob Armor to help improve our chances of finishing races and most of all winning races."
The Elite Series Case fits both the iPad Air 1® and iPad Air 2®. With the purchase of an Elite Series Case, customers will be receiving a free product consultation with our Lead Engineer, Joel Hitchen. In addition, Mob Armor will include a free, custom engraving of the name of the customer or their team.
"This Elite Series case is just the beginning of a forward thinking strategy of new products for both the on road and off road markets," stated Trevor Orrick. "This will revolutionize the industry and change the way people view off-road racing."
Specifications:

o iPad Air 1®
o iPad Air 2®

Material: 6061 T6 Aircraft Aluminum
Black Oxide 18-8 stainless hardware
Matte black powder coated finish
Mounting Compatibility
o VESA 75 mm
o AMPS
o MAQRM (Mob Armor Quick Release Mechanism)

Dimensions: 10.5 x 8 x 0.75
Weight: 2 lbs (with tablet)
Those interested in purchasing the Elite Series Case can visit http://www.mobarmor.com. For questions or inquiries about the product, customers should contact Kaitlyn Melo at 805-762-4622 for more information.