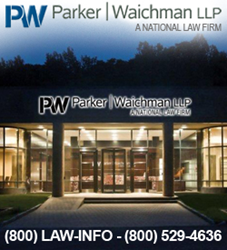 As a firm that has been actively involved in the Stryker hip implant litigation, we want to keep individuals informed about the extended deadline
Port Washington, New York (PRWEB) March 20, 2015
Parker Waichman LLP, a national law firm dedicated to protecting the rights of victims injured by defective drugs and medical devices, is informing the public of an extended deadline related to the Stryker hip implant litigation. Court documents show that the deadline to enroll in the Stryker Orthopaedics Rejuvenate Hip System settlement has been extended to March 30, 2015; previously, patients were required to file by early March 2015. A high failure rate and a risk of metallosis prompted Stryker to recall its ABG II and Rejuvenate Modular Hip System in June 2012. The settlement offers compensation to patients who alleged that the implants were defective and caused injuries. The New Jersey lawsuits were consolidated under In Re Stryker Rejuvenate and ABG II Modular Hip Implant Litigation, 296 BER-L-936-13, Bergen County Superior Court (Hackensack). The federal lawsuits were consolidated under In RE Stryker Rejuvenate Hip Implant Products Liability Litigation, 13-mdl-2441, US District Court, District of Minnesota (St. Paul).
According to Parker Waichman LLP, the firm has received numerous leads regarding these Stryker devices since 2012 and filed a number of lawsuits in the litigation. One such case was filed on June 26, 2013, in New Jersey's Superior Court of Bergen County (Docket No.BER-L-5037-13). This is one of many cases related to the Multicounty Litigation entitled In Re Stryker Rejuvenate Hip Stem and ABG II Modular Hip Stem Litigation, Case No. 296 and includes allegations involving pain, tissue damage, and metallosis. Court documents associated with Multicounty Litigation Case No. 296 reveal that a number of patients allege that they were forced to undergo revision surgery to remove their implants due to their injuries.
Court documents in this case indicate that Stryker recalled its ABG II and Rejuvenate Modular Hip System in June 2012 due to a high failure rate and a risk of metallosis and agreed to pay $1.45 billion to settle these cases on November 3, 2014. As part of this settlement, if patients had one hip device implanted and removed, they may be eligible to receive $300,000 base pay; those who underwent implant and removal of both hip devices may be eligible to receive $600,000. These base amounts may be adjusted based on the severity of the injuries and whether or not multiple surgeries were needed. The settlement also includes individuals who were injured but unable to undergo revision surgery due to medical issues.
"As a firm that has been actively involved in the Stryker hip implant litigation, we want to keep individuals informed about the extended deadline," said Gary Falkowitz, Managing Attorney at Parker Waichman LLP. "The compensation from this settlement will help many patients who have suffered metallosis, revision surgery, and other injuries and complications related to the recalled Stryker hip implant."
Parker Waichman LLP continues to offer free legal consultations to victims of injuries caused by defective medical devices and, specifically, Stryker hip devices. If you or a loved one experience an injury or health problem associated with a defective medical device, please contact the office by visiting the firm's Defective Medical Devices page or Stryker Rejuvenate/ABG II page at yourlawyer.com. Free case evaluations are also available by calling 1-800-LAW-INFO (1-800-529-4636).