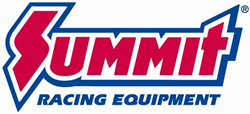 Tallmadge, OH (PRWEB) March 20, 2015
As Season Two of Fat N' Furious: Rolling Thunder winds down, Summit Racing has added new Parts Combos for the show's project cars. These Combos allow viewers to get some behind-the-scenes details on the latest projects. Here are the two final Parts Combos from Fat N' Furious Season Two:
1963 Chevy Impala
"Officer Ray" originally brought in a 1964 Chevy Impala for the restomod treatment. Once Tommy Christmas got it on the lift, however, he saw more rust than metal. Enter the Fat N' Furious 1963 Chevy Impala, which served as the Officer's replacement ride. The classic Bowtie got a new engine, along with a completely redone suspension and brake system.
1978 Chevy Malibu
For the final project of Season Two, the Christmas Automotive crew transformed a ho-hum 1978 Chevy Malibu coupe into a no-holds-barred quarter-mile monster. The Chevy benefits from a custom exhaust, BluePrint crate engine, serious transmission upgrades, and a high-performance cooling system.
LEARN MORE ABOUT FAT N' FURIOUS ON THE DISCOVERY CHANNEL
Summit Racing Equipment
http://www.SummitRacing.com
1-800-230-3030