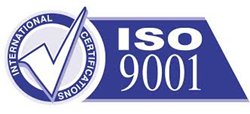 Achieving 100% On-time Delivery, 100% Customer Satisfaction and Zero Defects is our goal at Burns Engineering. ISO 9001 Registration is an important step in achieving that goal.
Minnetonka, MN (PRWEB) March 25, 2015
Effective January 15, 2015 Burns Engineering's Quality Management System has been certified ISO 9001: 2008 compliant and is registered through FM Approvals, LLC. Scope of registration is Design and Manufacture of Temperature Measurement Products and Accredited Temperature Calibration Services.
Burns Management and Employees are proud to add this additional level of external scrutiny and verification to their long standing internal Quality System to ensure and maintain the level of excellence in quality and performance their customers have come to expect from Burns products and services over the last 55 years. ISO 9001: 2008 certification joins their ISO 17025 certification in Temperature Calibrations to provide complete confidence in their temperature measurement products and services.
About Burns: Since 1960, Burns Engineering has been an industry leader in the design and manufacture of temperature measurement products for the Process, OEM and Metrology industries. Products include RTDs, Secondary SPRTs, Thermocouples, Thermowells, Transmitters and NVLAP® Accredited Calibrations (Lab Code 200706-0). Burns is an ISO 9001 Registered company. Learn more about Burns Engineering at http://www.burnsengineering.com or contact directly at 800-328-3871.