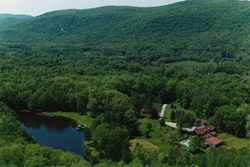 Kent, Conn. (PRWEB) March 20, 2015
William Pitt Sotheby's International Realty today announced that the Litchfield County, Conn., property of respected Broadway director, producer and choreographer Bob Avian is now for sale, listed with Kent agent Ira Goldspiel. The offering is available at $2,500,000 for the property on approximately 105 acres, or $3,620,000 for the full property on 252+ acres.
The multiple Tony Award-winning Broadway veteran began his career in the 1960s as a dancer featured in shows such as West Side Story and Funny Girl. In the following years he became a choreographer, often working alongside his business partner Michael Bennett, also a major name on Broadway, and working on the original runs of such acclaimed hits as Follies, A Chorus Line and Ballroom. Later, he produced the original run of Dreamgirls, handled the staging for the original run of Miss Saigon and directed the 2006 revival of A Chorus Line. He has also worked in theatre in London's West End.
Avian purchased his Kent property in the 1970s, and completed restorations and several improvements on the main house, originally constructed as a guest lodge in the 1930s. The lodge-like feel was preserved in the post-and-beam, sunlit great room, which features high ceilings and a stone fireplace, and encompasses the living room and dining and gaming areas. With a total of 4 bedrooms, the main house also has a kitchen with an original beehive oven as well as a second great room on the upper floor, with views over Flanders Mountain.
Beyond the main house, the property has a two-bedroom guest cottage with kitchen and living room, caretaker's house, screened-in gazebo, cabana with kitchenette and bar, garage and barn. The property additionally features a gunite pool, a 2-acre spring-fed pond and abundant gardens with blooms that range from spring daffodils to summer roses.
"Sometimes declaring a property to be a rare opportunity or one of a kind is hyperbole, but in this case these praises are well deserved," said Goldspiel. "While the home is warm and welcoming, the grounds are beyond glorious with stunning views of the surrounding unspoiled acreage. I am excited to bring such an incredible offering to the market."
To view the property online, please click here for the 105+/- acre offering and here for the 252+ acre offering.
About William Pitt and Julia B. Fee Sotheby's International Realty
Founded in 1949, William Pitt and Julia B. Fee Sotheby's International Realty manages a $3.3-billion-plus portfolio with more than 1,000 sales associates in 26 brokerages spanning Connecticut, Massachusetts, and Westchester County, New York. William Pitt Sotheby's International Realty, combined with partner firm Julia B. Fee Sotheby's International Realty, is the largest Sotheby's International Realty(R) affiliate globally and the 28th-largest real estate company by sales volume in the United States. A full-service real estate firm headquartered in Stamford, Connecticut, William Pitt and Julia B. Fee Sotheby's International Realty provides ancillary services including commercial services through its affiliation with Building and Land Technology, a second-generation development company based in Stamford, Connecticut; William Pitt Insurance Services; and an award-winning global relocation division. For more information, visit the website at williampitt.com.
Sotheby's International Realty's worldwide network includes more than 16,000 sales associates located in 730 offices throughout 56 countries and territories.