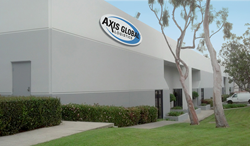 The new Los Angeles warehouse enhances our strategic footprint, and will allow Axis to provide our clients faster speed to market, with greater control and efficiency
Maspeth, New York (PRWEB) March 24, 2015
Axis Global Logistics—a leading provider of customized supply chain solutions for companies in a variety of industries—announced that it has opened a new, state-of-the-art warehouse in Los Angeles.
"The new Los Angeles warehouse enhances our strategic footprint, and will allow Axis to provide our clients faster speed to market, with greater control and efficiency," explained Tom Vassallo, Managing Partner. "Our network of facilities combined with our global transportation infrastructure means that we can offer customers a true OneTouch supply chain solution."
With the opening of the new Los Angeles facility, the company now has in excess of 650,000 square feet of warehouse space nationwide.
The new facility, which is strategically located between the Los Angeles airport and the Port of Long Beach, provides 45,000 square feet of storage space. It is racked for warehousing and distribution and has 14 dock doors for loading, unloading and cross docking capabilities.
In addition to the new facility, the company's strategic partner in East Los Angeles has more than one million square feet of warehouse space, Axis can now accommodate any customer's storage and distribution needs in the greater Los Angeles area. All facilities are linked with Axis' Warehouse Management System (WMS), enabling clients to view their assets across the entire warehouse network.
Headquartered in Maspeth, New York, Axis Global Logistics specializes in time-critical services that require a high-level of personal attention. The new Los Angeles warehouse joins a network of state-of-the-art facilities strategically located across the United States, Canada, Europe and Asia. The company also has two National Fulfillment Centers in New Jersey along with more than 1500 Axis agents worldwide.
The new facility location is 345 West Victoria St. Compton, Ca. 90220 http://www.axisg.com
For additional information about Axis' warehouse and distribution capabilities in the Los Angeles area, please email tvassallo(at)axisg(dot)com or call 732-377-0016.