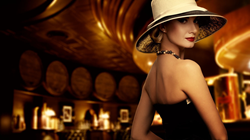 (PRWEB) March 22, 2015
RichWomenLookingforMen.us connects rich women with men who are not afraid of dating powerful women and who want their wives or girlfriends to be intelligent and independent.
The site was launched on Mar 20, 2015. George, the webmaster of RichWomenLookingforMen.us, said, "Many rich women are having problems in finding quality relationships. They think that men are intimidated by their success. It's not true. In fact, many men enjoy being in relationships with successful women. They enjoy being able to have intelligent conversations, and the fact that their wives or girlfriends are able to stand on their own."
The dating site matches rich women and men according to what they tell the site about themselves and their future partners. By signing up and completing a free profile, one can search rich women or men within the age range and area preferred to get a list of local matches. A standard membership enables one to browse all profiles and people's public photos, read and reply to emails, and use blogs and forums. Initiating emails and messages and some other features are reserved for premium members. Premium membership fee is $70 for one month but one can earn bonus premium memberships by helping the site spotting scammers and fake profiles to keep the community safe.
According to George, the webmaster of RichWomenLookingforMen.us, more features will be launched soon.
To learn more about the site, visit http://www.richwomenlookingformen.us/.