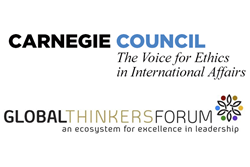 The conference will include speakers from Carnegie Council's Global Ethics Network and draw on Greece's rich Hellenic culture and philosophical tradition to help professionals and the public better understand and tackle contemporary democratic challenges.
(PRWEB) March 23, 2015
Carnegie Council for Ethics in International Affairs and Global Thinkers Forum announce
Democracy and Values: How Democratic Societies Foster Shared Values and Hold Leaders to Account - a Global Ethics Network Conference in Athens, Greece, April 25, 2015.
At this critical moment, as the future of Greek politics, the integrity of the Eurozone, and democratic values at large hang in the balance, Carnegie Council (New York) and Global Thinkers Forum (London) are convening a diverse group of scholars to discuss ethical leadership, the future of democracy, and political accountability.
The symbolic backdrop for this discussion is Athens, Greece - the birthplace of democracy. All are invited to participate.
The Conference is organized under the auspices of the Mayor of Athens Mr Yorgos Kaminis, and with the support of the U.S. Embassy in Greece and of Solidarity Now Greece.
Invited speakers include:
Greek Prime Minister Alexis Tsipras, Finance Minister Yannis Varoufakis, Mayor of Thessaloniki Yannis Boutaris, Carnegie Council President Joel H. Rosenthal, Carnegie Council Global Ethics Fellows from the UK and Europe, Independent Diplomat Executive Director Carne Ross (via Skype), and many prominent Greek politicians, educators and businesspeople.
Global Thinkers Forum CEO Elizabeth Filippouli stated: "We are extremely proud and honored to partner with Carnegie Council for this very important event on leadership and accountability. One of the main challenges that thought leaders need to resolve is that of a very large global economy and the very limited capacity of traditional governments and their international institutions to govern this economy. This asymmetry can only lead to failing governance and often the absence of good governance has been one of the biggest obstacles for its progress. In this reality, repositioning the role of leaders is the key for progress and sustainable development."
To see the agenda and full list of speakers, go to http://www.globalthinkersforum.org/agenda-april-25-2015/
For further information, contact Maja Honda at Global Thinkers Forum: maja.honda(at)globalthinkers(dot)com
Founded by Andrew Carnegie in 1914, Carnegie Council for Ethics in International Affairs is an educational, nonprofit, nonpartisan organization that produces lectures, publications, and multimedia materials on the ethical challenges of living in a globalized world. To learn more, go to http://www.carnegiecouncil.org
Global Thinkers Forum (GTF) is a think tank, a platform to create dialogue and bring current and future leaders together to discuss governance, society, progress and the future. It has been created to reposition perceptions about governance through a global perspective. To learn more, go to http://www.globalthinkersforum.org