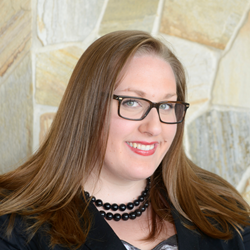 [Lauren's] methods and perspectives are spot on, and imparting that on the rest of our sales team is invaluable
Boston, MA (PRWEB) March 24, 2015
The global leader in providing core facility management software to research institutions has filled a new Director of Business Development role as it continues to grow in its largest market. Lauren Fry, iLab Solutions' Global Account Manager since May 2013, was recently promoted to the new position of Director of Business Development, North America. As such, Fry will fill a crucial role as iLab continues to expand its customer base across the United States and Canada.
"As we were thinking about our ideal candidate [for this role], we kept drawing from Lauren's accomplishments as an Account Manager," said Heather Lorenz, VP of Business Development at iLab. "She's very effective at helping our customers identify their needs, and then ensuring they are buying a product that will truly be useful to them. Her methods and perspectives are spot on, and imparting that on the rest of our sales team is invaluable."
In her new role, Fry will directly oversee all North American Account Managers. She will also continue her contributions in selling iLab's products across the continent as well as maintain effective communication with new and existing customers. This communication entails providing a full explanation of both the tools available to partners when they adopt iLab, as well as future updates to the existing platform. It also involves ongoing customer feedback, so that iLab may continue to meet the customers' evolving needs after the partnership is formed.
Lorenz continued, "Lauren is such an asset to iLab. She not only works closely with the team she manages and our customers during the sales process, but she also partners with our Implementation and Product Teams to ensure what the Sales Team is communicating during the sales process holds true during implementation and beyond."
For more information about iLab and it's offerings, please visit http://www.ilabsolutions.com.
About iLab: iLab Solutions is the global leader in providing web-based core facility management services to academic research institutions. The functionality includes request management, equipment reservation and usage tracking, project tracking, billing and invoicing, and reporting. iLab has extensive experience providing enterprise-level solutions at major research institutions, including integrations with institutional financial systems (e.g., SAP, Oracle, PeopleSoft, Lawson, Banner, IFAS, etc.) and identity management systems (e.g., Active Directory, LDAP, Shibboleth, etc.). iLab's dedicated implementation team and full customer support result in high adoption rates. Core facilities across nearly 120 institutions in North America, Europe, and the Asia-Pacific region rely on iLab, including universities, hospitals, independent institutes, and government labs.