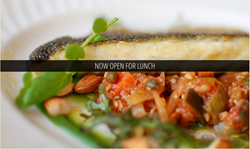 Cinara, in the 117-year-old Victorian Hotel, showcases Syme's food in a more affordable way
Vancouver, BC (PRWEB) March 22, 2015
Featured in Vancouver Sun's "Best New Vancouver Restaurants of 2014," Cinara is a European eatery with a strong Italian touch. Victorian Hotel has recently announced that Cinara is now open for lunch at the Hotel's famous corner of Homer Street and West Pender. Cinara, known for its affordable pricing, presents exquisitely crafted modern European cuisine. Dishes such as Clams with corned veal tongue, fregola and saffron go for as low as $17.00, and their menu changes frequently enough to keep things interesting.
"New Vancouver Restaurant Cinara opens for lunch at the Victorian Hotel," states a company representative. "The Victorian Hotel's iconic corner of Homer Street and West Pender will be anchored by a fabulous European eatery called Cinara. The full service restaurant and wine bar will feature large picture windows, open kitchen and delicious European food with a strong Italian accent."
The Vancouver Sun's Mia Stainsby describes Cinara in the following words: "When Lucais Syme parted company with Adam Pegg and divvied up restaurants, Pegg took La Quercia and Syme got La Pentola, the more formal of the two. Cinara, in the 117-year-old Victorian Hotel, showcases Syme's food in a more affordable way. The menu is short and changes frequently."
About The Victorian Hotel
Located at 514 Homer Street, The Victorian Hotel offers 47 newly renovated luxurious hotel rooms featuring 21st Century comforts within a Victorian atmosphere. Built within a Victorian-era building and constructed in 1898, the hotel offers uncomplicated and professional service for its patrons, who enjoy an ambiance that has an authentic, Victorian feel. For more information, log on to http://www.victorianhotel.ca.