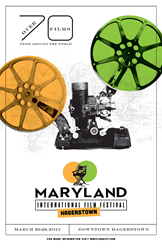 MDIFF-H board president Tom Riford, "In Washington County, people walk a little taller and a little prouder, because Nora calls Keedysville and Boonsboro home."
Hagerstown, Maryland (PRWEB) March 22, 2015
The Maryland International Film Festival-Hagerstown has announced its recipient of the 2015 Mendez Award, the film festival's highest honor. The Mendez Award, named in honor of American Hero Tony Mendez, is being presented to Nora Roberts.
Nora Roberts, award-winning author, has significantly contributed to the field of literature. Nora Roberts was the first author to be inducted into the Romance Writers of America Hall of Fame. She has also received the organization's Lifetime Achievement Award. Her novels have spent more than 861 weeks on the New York Times Bestseller List, including 176 weeks in the number-one spot. Over 250 million copies of her books are in print, and she has had over 40 best-selling titles.
In the world of film production, Nora Roberts has had eleven of her books turned into films. She has also been credited as a consultant on films, and additionally is an uncredited extra as a dancing wedding guest in the 2007 film Montana Sky. She has been spotted several times, in her works which have been turned into films.
Time named Roberts one of their 100 Most Influential People in 2007, saying she "has inspected, dissected, deconstructed, explored, explained and extolled the passions of the human heart." Roberts has been included repeatedly on the Giving Back Fund's annual lists of the most philanthropic celebrities, with the bulk of her donations going to the Nora Roberts Foundation. The foundation financially supports organizations that promote literacy and the arts, assist children and engage in humanitarian efforts. Funded by gifts from the Nora Roberts Foundation, the Nora Roberts Center for American Romance at McDaniel College supports academic scholarship on the American romance novel with special emphasis on the literary qualities and significance of the romance genre.
Nora Roberts has lived in Washington County for nearly 47 years. She has greatly contributed not only to literature, film, the arts, local economic development, and philanthropy, but also to hometown pride. According to MDIFF-H board president Tom Riford, "In Washington County, people walk a little taller and a little prouder, because Nora calls Keedysville and Boonsboro home. Nora Roberts' efforts have created significant economic development for Boonsboro, with Turn the Page Bookstore, the Inn Boonsboro, Gifts in Boonsboro, restaurants, and other projects. Often, on a weekend when Nora is doing a book-signing, hundreds of people from all over North America, will stand in line for hours, for a chance to meet their literary hero. When it has been Nora Roberts' Day at the Hagerstown Suns, people from across America cheer her, as she throws out the ceremonial first pitch."
The Maryland International Film Festival-Hagerstown's top award, the Mendez Award recognizes Nora Roberts' contributions not only for film, but also for contributions for literary and artistic effort, excellence in contributions for quality of life, and for support of the independent spirit. The award will be officially announced at the opening night of the festival on Thursday March 26, 2015 at the Maryland Theatre.
Past Award Winners have included:

Antonio "Tony" Mendez, CIA Master of Disguise, Founder of the Spy Museum, and Award-Winning Author and Painter.
Joe Carnahan, Film Director and Producer, known as one of the most prolific film-makers in Hollywood, Creator Director of MIFF-H.
The fourth annual Maryland International Film Festival, Hagerstown received more than 250 submissions, and the judges announced that over 70 films were selected. Opening night Thursday March 26 is at the Historic Maryland Theatre. Other venues on Friday and Saturday March 27 and 28 include the Academy Theater and the Bridge of Life Center, along with the Washington County Free Library Fletcher Branch.
Tickets are now on sale, through the Maryland Theatre box office, and more information can be found online at http://www.marylandiff.com. The best value is the all-festival pass! Films include documentaries, short, animated films, features and student films. New this year for the high school student films, MDIFF-H has asked that participating students include a Maryland landmark while shooting their scenes as part of the contest.
Filmmakers and film lovers are coming from around the world to experience the festival. Film makers from Canada, New Zealand, California, New York, Florida, throughout the Mid-Atlantic, and from many other places are attending this year's festival. The award-winning Joe Carnahan will be screening his new film 'Stretch' on opening night. Carnahan is the director of producer of several major films and television projects, including 'Blacklist' and 'State of Affairs.'
Sponsors include the City of Hagerstown, Washington County, the Hagerstown-Washington County Convention and Visitors Bureau, Volvo Powertrain, Columbia Bank-Hagerstown Trust Division, Northwestern Mutual, Big Cork Winery, Ovation PR & Advertising, Hagerstown Community College, Washington County Arts Council, the Historic Maryland Theatre, Herald-Mail Media, Tom Riford, and Jay Frantz.