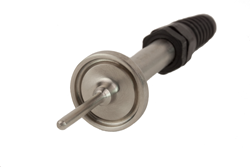 Temperature sensors when you need them . . . Burns Engineering's S01 and S03 sanitary sensors for the Food & Beverage, Pharmaceutical and Biotech markets are now available in just 3 days!
Minnetonka, MN (PRWEB) March 31, 2015
Burns Engineering announces 3-Day Quick Ship on S01 and S03 Sanitary Temperature Sensors for the Food & Beverage, Pharmaceutical and Biotech markets. These field proven sensors conform to 3A #74, are ASME-BPE compliant and are now available as part of Burns' Quick Ship Program to keep production lines up and running.
The S01 and S03 with 1/8" and 1/4" diameters respectively are direct immersion sensors with Hygenic Ferrule process connections used in process lines 1/4" and larger. Sensors are available in RTD and Thermocouple (Type E, J, K and T) models with cable or connection heads. Operating temperatures are -50ºC to 200ºC. Documentation including heat numbers of "wetted" materials, material traceability certificate and a certificate of surface finish and electropolish are standard and automatically provided.
The sensors also feature an optional N.E.T Solution™ design which provides an assembly with No Exposed Threads that eliminates the cracks and crevices where bacteria, dirt or other unwanted material can collect.
About Burns: Since 1960, Burns Engineering has been an industry leader in the design and manufacture of temperature measurement products for the Process, OEM and Metrology industries. Products in RTDs, Secondary SPRTs, Thermocouples, Thermowells, Transmitters and NVAP Accredited Calibrations (Lab Code 200706-0). Burns is an ISO 9001 Certified company. Learn more about Burns Engineering at http://www.burnsengineering.com or contact directly at 800-328-3871.