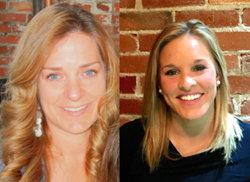 "As we continue to see growing demand for our product nationally, it's important that we bring on key staff with knowledge and passion for high school athletics. Amelia and Jen will be important assets as we continue to expand the BigTeams Network."
Washington, D.C. (PRWEB) March 24, 2015
BigTeams, the leading provider of websites and software for high school athletic programs, announced the hiring of Amelia Boyer and Jennifer Motze as Vice Presidents of School Development, to fuel the rapid growth within the company. Boyer assumes her new role after serving as a Senior Sales Executive for SchoolPointe, an Ohio-based school district website content management system provider. Motze had been working for Schedule Star, a division of USA TODAY Sports, which was acquired by BigTeams in December 2014.
CEO Clay Walker said in a statement, "As we continue to see growing demand for our product nationally, it's important that we bring on key staff with knowledge and passion for high school athletics. Amelia and Jen will be important assets as we continue to expand the BigTeams Network."
Boyer has always been passionate about athletics. She attended Wittenberg University where she played basketball and also coached as a student assistant in her final year. After graduation, she spent five years at SchoolPointe, expanding their presence in the national market, and topping $3,500,000 in sales in her short tenure.
"Technology and communication is essential to the success of local athletics programs throughout the country," said Boyer. "I'm excited to join an organization whose mission is to serve high school athletic departments."
Motze joined Schedule Star in 2011 as a member of the sales team, where she rose through the ranks to a leading role. Previously, Motze spent 20 years in high school athletics, most recently as Director of Athletics at the Wyomissing Area School District where she was a member of the Pennsylvania State Athletic Directors' Association Executive Council. Motze graduated from the Pennsylvania State University, where she earned a Bachelor's Degree in Exercise and Sport Science and lettered on the Varsity Track & Field Team.
"With a career in sports that spans two decades, I am clearly passionate about athletics—especially the role they play in fostering positive values in young athletes," Motze said. "I am honored to be part of BigTeams, an organization that shares these beliefs, and I look forward to continuing my service to student-athletes, parents and administrators."
Based in the Northern Virginia Technology Corridor, BigTeams has established itself as an industry leader by servicing more than 4,300 official high school and middle school clients across all 50 states. BigTeams is the official software partner of the NFHS, the governing body of high school athletics. The full stack offering includes innovative websites, scheduling software, fundraising tools, communication and content channels, and roster management.
#####
BigTeams is the leading provider of high school athletics websites and software. The BigTeams platform powers 4,000+ schools with administrative and revenue-generating tools, including scheduling, roster management and local online advertising sales, to manage their athletic programs and reach their local communities. For more information, please visit: http://www.bigteams.com.
Contact:
Clay Walker
CEO
clay(at)bigteams(dot)com