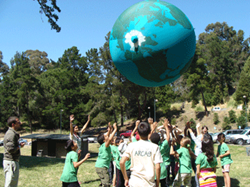 Oakland, CA (PRWEB) April 08, 2015
**FOR IMMEDIATE RELEASE**
On Saturday, April 18, 2015, Oakland Zoo is hosting one of the largest Earth Day celebrations in the East Bay. From 10:00am – 3:00pm, more than fifty local environmental organizations are taking part in the child-friendly festivities. The public is invited to join the party, while touring dozens of interactive Earth Stations throughout Oakland Zoo.
This Earth Day event is sponsored by Taiwan Tourism, the Heart of Asia and will include animal presentations, flying trapeze demonstrations by Trapeze Arts of West Oakland, an earth ball game, animal trivia, and live entertainment. Highlights also include a giant community art wall with Artismobilus and a mobile fish unit from East Bay Regional Park District. Guests may donate an old cell phone for a free train ride. Recycling your cell phone helps conserve the habitat of great apes in Africa.
"Humans around the globe have been celebrating their connection to and reverence of the planet for centuries," said Amy Gotliffe, Conservation Director at Oakland Zoo. "It makes sense that our modern society would create a day such as Earth Day: a special day set aside to appreciate and take action for our one precious planet. Earth Day has been celebrated for forty-five years and in nearly 200 countries, and Oakland Zoo joins in the celebration by producing one of the largest Earth Day events in the East Bay. It is our pleasure to bring together our visitors and community to connect with over fifty wildlife and nature-based organizations. We hope our guests have a ball while learning that each of us truly matter, and that we can all take action for wildlife. It will be a wonderful day and a genuine party for the planet!"
Besides being entertaining, this day-long event is an opportunity for families to connect with nature and their favorite animals. Action for Wildlife is at the heart of Oakland Zoo's conservation efforts. Find out how everyone can take action to help wildlife around the planet.
All ages are welcome for a day of interactive learning and animal inspired fun. The 2015 Earth Day event at Oakland Zoo is included with regular Zoo admission ($11.75 for children/seniors; $15.75 for adults; parking $8.00). Bring a used ink cartridge or cell phone to recycle and receive a free train ride.
Earth Day 2015 Schedule of Activities:
Clorox Wildlife Theater (Located in Children's Zoo)
11.45am: Live Animal Encounters with Oakland Zoo docents
12:30pm: Live Animal Encounters with Oakland Zoo docents
Children's Zoo Commons:
Animal Trivia with Oakland Zoo Teen Wild Guides
1:00pm: Jugbandits Band
2:30pm: Jugbandits Band
Adventures in the Meadow
11:15am: Giant Earth Ball for Little Kids
12:00pm: Wild Trapeze show with Trapeze Arts
1:00pm: Giant Earth Ball for Big Kids
2:00pm: Wild Trapeze show with Trapeze Arts
Arroyo Viejo Creek
9:00am -12:00pm: Help restore the creek with the creek crew and the city of Oakland. Meet at the entrance to the creek. Contact creek(at)oaklandzoo(dot)org for more info.
Oakland Zoo is thrilled to welcome the following organizations to participate in a "Party for the Planet:"
1. 96 Elephants
2. Act for Great Apes
3. Africa Matters
4. Amboseli Trust for Elephants
5. Animal Rescue Foundation
6. Aquarium of the Bay
7. Artismobilus Art Wall
8. Bay Area Air Quality Management
9. Bay Area Puma Project
10. Bay Area Seafood Watch Alliance
11. BEAR League
12. Big Life
13. Budongo Snare Removal Project
14. California Academy of Sciences
15. California Department of Fish and Wildlife
16. California Trail
17. California Wolf Center
18. CentreValBio
19. The Center for Oceanic Awareness, Research and Education
20. East Bay Regional Parks Fishmobile
21. East Bay SPCA
22. Ecoloblue
23. EWASO Lions
24. Girl Scout Troop 32899
25. Hungry Owl Project
26. Lindsay Wildlife Museum
27. Lola ya Bonobo
28. March for Elephants
29. Marine Mammal Center
30. Marshalls Farm Honey
31. Mickaboo Companion Bird Rescue
32. Monterey Bay Aquarium
33. Mountain Lion Foundation
34. Mountain Yellow Legged Frog Project
35. Northern Light School
36. Oakland Zoo Membership
37. Oakland Zoo Education
38. Palomacy Pidgeon & Dove Adoptions
39. Performing Animal Welfare Society
40. Primate Education Network
41. Red Panda Network
42. River Otter Ecology Network
43. San Francisco Zoo
44. Save Nature
45. Snow Leopard Conservancy
46. Sonoma Birding
47. Stopwaste
48. Sulfur Creek Nature Center
49. Taiwan Tourism Bureau
50. Trapeze Arts
51. Uganda Carnivore Program
52. Ventana Wildlife Society
53. Western Pond Turtle Project
54. Whole Foods
55. WildAid
56. ZooCamp Nature Play
ABOUT OAKLAND ZOO:
The Bay Area's award-winning Oakland Zoo is home to more than 660 native and exotic animals. The Zoo offers many educational programs and kid's activities perfect for science field trips, family day trips and exciting birthday parties. Oakland Zoo is dedicated to wildlife conservation onsite and worldwide. Nestled in the Oakland Hills, in 500-acre Knowland Park, the Zoo is located at 9777 Golf Links Road, off Highway 580. The East Bay Zoological Society (Oakland Zoo) is a nonprofit 501(c)3 organization supported in part by members, contributions, the City of Oakland and the East Bay Regional Parks. For more information please visit our website at http://www.oaklandzoo.org.
###