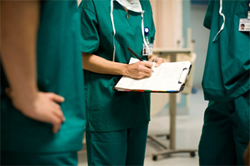 Dental and Medical Assistants are ranked very highly because in most offices, two or three assistants are needed, or more depending on how busy the office is
(PRWEB) March 24, 2015
The medical industry has long been a stable pillar in an ever-changing economy, consistently needing educated and trained professionals in the field. Despite a near 10-year decline in the economy, the medical field has continued to grow and require more workers thanks to the aging baby-boomer population and progression in the field of medical science.
MedicalSchoolsInUSA.com has compiled a list of this year's most in-demand medical-related jobs through a collection of data through various school programs. The website specializes in collecting and organizing college and university medical school program information for institutions across the US.
The nine top jobs have been categorized into three areas – jobs that require at least a bachelor's degree, jobs that need a minimum of a certification, and positions that most states regulate only through on-the-job training.
"Running any sort of medical procedure, place, or otherwise always requires more than one professional," said MedicalSchoolsInUSA.com spokesperson Stephan Trumball. "Some of the most fruitful areas of medicine right now require a room with someone with a doctorate, another with a certificate or diploma, and a person with training."
Trumball goes on to clarify that medical schools in the US no longer exist only for four and eight year programs, but there are also plenty of schools specializing in two year or less programs, many of which made this year's list.
"Dental and Medical Assistants are ranked very highly because in most offices, two or three assistants are needed, or more depending on how busy the office is," said Trumball. "These positions require only certifications or diplomas, and there are schools that fast-track the programs to be two years or less."
Topping the list of jobs that require higher education is the position of registered nurse, which is needed in virtually any medical facility. Trumball also points out that the positon of Physical Therapist came in on the list too as a result of a large aging generation.
"Because baby boomers are aging, they're the most at-risk for physical therapy needs. At the same time, veterans who have been disabled or otherwise injured as a result of combat need physical therapists to help them recover," said Trumball. "These two factors have led to many medical schools implementing physical therapy degree programs."
To see the full list, including the top jobs requiring only on-the-job training, visit MedicalSchoolsInUSA.com.