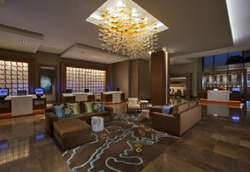 WiSuite's technology gives us the power to accommodate guest preferences and reduce our energy usage
San Antonio, Texas (PRWEB) March 25, 2015
WiSuite, a leading provider of guest room energy management systems for the hospitality industry, announced the Hyatt Regency San Antonio Riverwalk implemented its WiSuite Intelligent Network (WIN) and WiStat-SS Smart Screen thermostats, following a review of available solutions. WiSuite's technology helps hoteliers capture energy cost savings by monitoring guest room occupancy in real time and provides the Hyatt property improved profitability, environmental sustainability and guest comfort.
"Hyatt is an industry leader for comprehensive global energy and water data tracking across its properties," noted Jimmy Yarbrough, Hyatt Area Director of Engineering. "WiSuite's technology gives us the power to accommodate guest preferences and reduce our energy usage, contributing to both guest satisfaction and our Hyatt 2020 Vision of responsible environmental stewardship."
WIN allows hotel management to monitor conditions in guest rooms in real time and make changes remotely, empowering them to proactively anticipate guest requests and minimize disruption to hotel operations. WiSuite interfaces with the hotel's property management system, enabling the hotel to decrease energy consumption associated with heating and cooling in vacant or unoccupied rooms.
"Hyatt manages how its hotels use energy to serve their guests in a clear and thoughtful manner," noted John Gallant, CEO of WiSuite USA. "Hotels in a climate like San Antonio's have tremendous potential to save on cooling costs and make meaningful reductions to their carbon footprint and other sustainability measures – this investment demonstrates clear alignment between the Hyatt 2020 Vision and its day-to-day operations."
WiSuite's state-of-the-art thermostat also influenced Hyatt's decision to select WiSuite. WiStat-SS Smart Screen thermostats combine sleek styling and a touchscreen interface that can display hotel logos and useful information for guests, such as outside weather conditions.
"WiSuite has consistently delivered throughout this project," added Yarbrough. "The new design of the thermostat combined with the software capabilities made it an easy choice to alternatives we reviewed and they completed the installation on time and within budget."
About WiSuite
WiSuite, headquartered in Detroit, Michigan, is a leading American manufacturer of advanced software-based energy management solutions and in-room controls for lodging, healthcare and educational customers throughout the world. WiSuite's Intelligent Network, along with the WiStat-SS product line, provides comprehensive savings, management and reporting of a building's energy consumption. WiSuite lodging customers include leading global brands ranging from mid-scale hotels to five-star luxury properties, including Hilton, Hyatt, Marriott, IHG, casinos and many others. For more information, visit wisuite.com.
About Hyatt Regency San Antonio
Hyatt Regency San Antonio is one of the Alamo City's most luxurious downtown hotels. The AAA Four Diamond property is uniquely situated on the famous San Antonio River Walk with a premier view of the historic Alamo, connecting two of the city's top destinations through the hotel's 16-story atrium lobby. Guest can enjoy unsurpassed Hyatt service and amenities from swimming in the heated rooftop pool indulging in the pampering services of the DASA spa or exercising in the 24-hour Stayfit™ gym. Barbeque inspired cuisine and stylishly chic guest rooms make Hyatt Regency one of San Antonio's premier destination hotels. For more information and reservations, visit http://www.sanantonioregency.hyatt.com or call 210-222-1234.
[Note to editor: Hi-res images of the WiSuite Intelligent thermostat are available up request.]