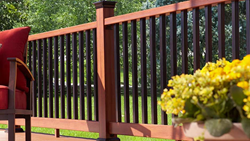 Natural Railing offers homeowners a sleek design that's easy to love and even easier to maintain.
New London, NC (PRWEB) March 31, 2015
Now homeowners can add the warmth and beauty of natural wood railing to their outdoor spaces without sacrificing time or money to maintain it. It's all thanks to new Natural Railing from Fiberon, the leader in innovative composite decking and railing technology.
Available in Mahogany and Redwood, Natural Railing features a premium eco-friendly composite core wrapped in a durable finish with a detailed wood grain pattern. The profile is sleek and understated, and looks like genuine hardwood (no one will know the difference). Unlike wood railing, though, Natural Railing resists moisture, staining and damage from UV rays – and never needs sanding, painting or refinishing. Plus, it's backed by a 20-year limited warranty for added peace of mind.
"Fiberon takes great pride in offering high-quality composite decking and railing products at price points to suit any budget," says President Doug Mancosh. "Our new Natural Railing offers homeowners a sleek design that's easy to love and even easier to maintain. Plus, Natural Railing is easy to install, something professional builders and dedicated DIYers alike will appreciate."
Currently, Natural Railing is available exclusively in West Coast markets. To locate a distributor, or to learn more about Fiberon's complete line of composite decking and railing products, visit https://www.fiberondecking.com or call 1-800-573-8841.
About Fiberon
Fiberon is a leading manufacturer of wood-alternative decking, railing, and fencing products available around the globe. Through cutting-edge, American-based manufacturing, Fiberon has created new benchmarks for innovation in outdoor living products. The company is a leader in sustainable practices, with innovative manufacturing processes that capture 98.5% of waste materials, and divert 50,000 tons of wood and plastic from landfills each year. Fiberon, a proud sponsor of NADRA (North American Deck and Railing Association), is privately owned with operations in North Carolina and Idaho. For more information, visit http://www.fiberondecking.com and follow Fiberon on Facebook, Pinterest, Twitter, and YouTube.