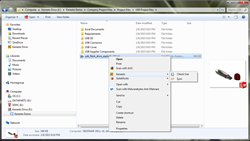 Waltham, MA (PRWEB) March 25, 2015
Kenesto Corp, a leading cloud provider of engineering data management and lifecycle collaboration, today announced that its innovative solution for file management and collaboration, called Kenesto Drive, is now available to its subscribers for use.
Kenesto Drive is the latest innovation for mainstream engineering companies designed to serve as an alternative to the commonly used shared network drive. Going well beyond what consumer-grade document collaboration solutions offer, Kenesto Drive enables innovatively simple file collaboration, automatic versioning, simple file locking (vaulting), and much more – all directly from within the user's desktop applications and file managers.
One of the most important aspects of Kenesto Drive is that it has been built from the outset to support CAD and other engineering file types. Being that the desktop service interfaces with cloud storage, customers no longer have to worry about their shared drive's back-up status, about files being accidentally deleted, moved, overwritten, or accessed by unapproved users. Yet, at the same time, the very cloud-centric nature of Kenesto's solution offers built-in ability to share and collaborate with team members both inside and outside the company.
The Kenesto Drive desktop service can be downloaded for use by Kenesto subscribers immediately from the Kenesto Support page on their website. The Kenesto Drive be automatically updated to reflect the latest enhancements and capabilities as they become available.
To learn more, schedule a demonstration by contacting Leslie Minasian at Kenesto. The Kenesto Drive will also be showcased in the Kenesto booth on Thursday March 26th at the Develop 3D Live 2015 conference at the Warwick Arts Centre in Warwick, United Kingdom.
Contact:
Contact name: Leslie Minasian
Email: info@kenesto.com
Phone: +1 781-780-7400
Web: http://www.kenesto.com
Kenesto is a registered trademark of Kenesto Corp. All other company and product names are the property or trademarks of their respective owners.