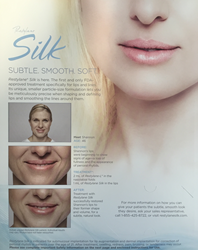 Restylane Silk is the first and only FDA-approved product specifically designed for subtle lip enhancement and the smoothing of wrinkles and lines around the mouth
Summit, NJ (PRWEB) April 09, 2015
Ethos Med Spa is proud to announce that they are now offering their patients perioral rejuvenation treatments with Restylane Silk. Restylane Silk is now approved for release in the United States. It is the first and only FDA-approved product specifically designed for subtle lip enhancement and the smoothing of wrinkles and lines around the mouth in patients over 21 years of age.
Restylane Silk is a clear injectable gel composed of hyaluronic acid, a natural substance that already exists in the body. Restylane Silk is non-animal based and if free from animal protein, because of this allergy pretesting is not necessary. Restylane Silk also contains 0.3% lidocaine, which was added to reduce the discomfort associated with the treatment. Like other areas of the face, the lips and skin surrounding the mouth show signs of aging as an individual gets older. This often results in lip thinning, lost shape and an increase in vertical lines above the lip.
Restylane Silk is designed specifically to provide natural-looking results around a patient's lips and mouth. That is why it is made of smaller, smoother particles than those used in other Restylane products. In a clinical study of patients treated with Restylane Silk or no treatment researchers reported:

77% of patients treated with Restylane Silk showed at least a one-point improvement in lip fullness (measured on a 5-point scale) eight weeks after treatment.*
59% of patients treated with Restylane Silk maintained lip fullness six months after treatment.*
*Results from study conducted by Valeant Inc. creator of Restylane Silk
Restylane Silk's unique particle gel formula, along with an ultrafine needle designed for improved accuracy, helps give you softer, more precise results that will translate into a natural-looking wrinkle free smile. Ethos Med Spa is excited use Restylane Silk on our patients looking to remove the wrinkles around their lips.