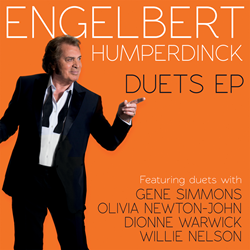 New York, NY (PRWEB) March 26, 2015
The legendary and incomparable Engelbert Humperdinck expands upon the success of his critically acclaimed double album, Engelbert Calling (2014) with his first vinyl release in more than 25 years. "Duets EP" will be available on May 4, 2015 and will feature four duets from his double CD available for the first time on vinyl.
Nick Sortino, product manager at OK!Good Records, says, "Duets EP will be a limited edition 7" vinyl record with a first pressing of 1,000 copies on transparent cloudy clear vinyl. We are excited to be the first to have this new release for vinyl fans and collectors world-wide."
The four duet selections for the EP include "Spinning Wheel" with Gene Simmons, "Never, Never, Never" with Olivia Newton-John, "It Matters To Me" with Dionne Warwick, and "To Make You Feel My Love" with Willie Nelson. Sortino added, "We wanted to go with a '70s feel for the EP since that was a very active and popular time for Engelbert as well as for vinyl records, so we specifically chose duets with partners who were also active and popular during that time."
While the "Duets EP" will be available in music retailers nationwide on May 4, 2015, a limited amount will be made available for purchase at select record stores in support of Record Store Day on April 18, 2015. Fans without local record stores participating in Record Store Day can purchase their copies at okgoodrecords.com.
Visit http://www.okgoodrecords.com for more information.
###
About OK!Good Records:
OK!Good Records is a genre independent record label established in 2010 to distribute, market, and promote artists and music that defy boundaries, reject limitations, and transcend the ordinary. They champion and celebrate independent music, thought, art, expression, and enterprise. http://www.okgoodrecords.com