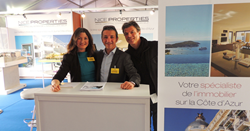 It's a dynamic real estate celebration of the French Riviera and people just love it.
Nice, France (PRWEB UK) 27 March 2015
Nice Properties Real Estate Group will be showcasing the latest property offerings on the French Riviera at the 9th Salon de l'Immobilier de la Cote d'Azur Nice Matin on March 27-29th.
As an active leader of the local real estate market in Nice and on the Cote d'Azur, Nice Properties will have representatives from each of their 5 agencies along the French Riviera to help clients with their property options.
Michael Fusaro, CEO of Nice Properties, explains, "We absolutely love to participate in this show as it is in our beloved hometown of Nice, and conveniently across the street from our main office! Not only do we have the opportunity to meet the large number of visitors to our booth, but to also talk with all of the other local businesses which whom we often collaborate with as well as our local government."
Fusaro further adds, "It's a dynamic real estate celebration of the French Riviera and people just love it."
Nice Properties will also have information on hand about their new exclusive English speaking services for international buyers through their membership to the Riviera Alliance.
The tradeshow will be located on the waterfront of the Quai des États-Unis in Nice.
Entrance is free and the doors are open from 10:00-19:00.
About Nice Properties
Nice Properties is the French Riviera's leading real estate group specializing in the sale of luxury villas, vacation homes, apartments, new build residential projects and commercial real estate. Offering the most effective professional multi-lingual network of real estate professionals with five agencies along the Cote d'Azur from Cannes to Beaulieau, they provide a friendly, efficient platform for the best real estate opportunities and investments on the French Riviera along with a strategic marketing portfolio that covers both national and international markets. To find out more information, please visit http://www.nice-properties.com.