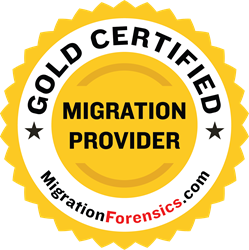 "Our MSPC certification provides organisations comfort that they can avoid undetectable data loss, unpredictable projects and maintain data compliance through all stages of the migration process."
(PRWEB UK) 26 March 2015
MigrationForensics, independent market analyst and global advisor for email and data migrations today announces that leading Legacy Archive and Email migration vendor Bishop Technologies Inc., is the first North American data migration provider who has achieved Gold Certified Migration Service Provider status after a rigorous audit of all migration processes and resources. Bishop demonstrated an outstanding data migration process and exceptional quality during the audit process, passing all 51 certification checkpoints.
MigrationForensics' Migration Service Provider Certification program (MSPC) allows service providers like Bishop to demonstrate and prove their migration capabilities against a 51-point essential and best-practice test list.
MSPC was designed for migration service providers to align their operations with industry best practices. This program tests a migration service provider's ability to perform and follow best of breed practices for security, item integrity, auditing, compliance and performance across all migration processes.
MSPC Certification is available in 3 levels:
Gold: the premier certification level demonstrating outstanding process, efficiency, safety and standards throughout all 4 aspects of the data migration process
Silver: representing a data migration practice which has invested in efficiency, standards and processes
Bronze: demonstrating a safe and capable data migration practice
"Bishop represents one of the largest and most specialized legacy archive migration service providers in the world, having performed a huge array of migration projects with an extremely wide array of tools. Bishop is the first Migration Service Provider in North America to achieve Gold Certification, having passed our rigorous 51-point check with flying colours," said Dan Clark, CEO of MigrationForensics.
Clark explains that "95% of data migrations had some form of compliance or integrity problem based on a 2013 survey of 20 randomly sampled migrations. In setting up MigrationForensics we wanted to ensure that organisations requiring archived data migration services can select a service provider with proven and endorsed capabilities like Bishop. The certification provides organisations comfort that they can avoid undetectable data loss, unpredictable projects and maintain data compliance through all stages of the migration process".
"We're very excited that MigrationForensics identified Bishop as the leading NA legacy archive migration expert, offering us the opportunity to be part of their certification program," says Chris McVeen, President at Bishop Technologies. "We are thrilled to be able to leverage our knowledge and formally be recognized as a leader, not only in archive migrations, but in service excellence. We position ourselves as the most-experienced legacy data migration specialists around the world, not only in on premise migration scenarios, but as the authority when it comes to migrating legacy data to cloud platforms such as Office 365 and Gmail. This Gold Certification will allow us to show our continued commitment to our Clients on the added value we bring to them and we are truly honoured by this recognition!"
>>> end press release <<<
About MigrationForensics
MigrationForensics was formed in 2014 as an independent market analyst and advisor with the aim of improving standards and performance in the data migration community. Formed with a small team of experts from the industry, it collectively has over 20 years of experience in migrations from 100GB to 1.5PB in size.
MigrationForensics is the only independent data migration specialist in the market that does not perform data migrations or produce migration tools, allowing total impartiality. MigrationForensics works with all three parties involved in a migration, the tool vendors to improve standards and performance, the migration service providers to improve migration standards & delivery, and with the migrating organizations to assist planning migrations, selecting the right tools and service providers, and to validate compliance.
To find out more about the MigrationForensics Use Certified campaign, visit http://migrationforensics.com/use-certified.
About Bishop Technologies Inc.
Bishop Technologies, Inc., headquartered in Elgin, IL, specializes in helping midmarket businesses, large enterprises, and government agencies across North America leverage the hybrid cloud to transform the way they manage information and do business. We help clients identify and prioritize which workloads belong in the cloud, which should remain on-premise, and which should exist in a hybrid model, and then collaborate with each of the key stakeholders to develop deployment and adoption plans. Our engineers' experience and vendor-certified expertise in implementations and migrations, along with our suite of managed services, maximize operational efficiencies through reduced costs, increased revenues and enhanced employee collaboration and productivity. Bishop: Keeping Your Data In Check™.
Media Contacts:
MigrationForensics: Cara Wilburn, Market Analyst, info(at)migrationforensics(dot)com
Bishop Technologies, Inc: Laura Zawacki, Marketing Manager, info(at)bishopit(dot)com