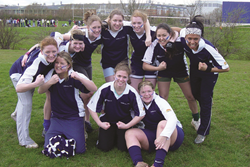 I hope to use my experience of enjoying sport as a female to help Tours 4 Sport reach more young girls and provide them with the type of inspiring experiences that I have been lucky enough to enjoy
(PRWEB UK) 31 March 2015
There is currently great concern about the lack of female participation in sport, with Sport England's Active People Survey (no. 8, October 2013-October 2014) finding that 2 million fewer women than men are physically active. What is especially worrying is that this gender gap seems to be appearing as early as primary school. Tours 4 Sport examines the reasons behind this gender gap and how it can be tackled by offering exciting school sports tours.
Unfortunately, it seems that the attitude remains that being 'sporty' is not as admirable a trait in girls as it is in boys. Girls worry that they will be judged for their size, their ability or even just for getting hot and sweaty during exercise; an attitude that Sport England's 'This Girl Can' campaign has sought to tackle head on.
Perhaps one reason for this attitude is that there is still a relative lack of sportswomen on television and in the media, although, encouragingly, female athletes such as Jessica Ennis-Hill and Victoria Pendleton are beginning to be featured more prominently in advertising and TV commentary slots.
Tours 4 Sport's Jessica Woodhall does feel that there is still an issue with the visibility of sportswomen: "It is true that the vast majority of sportspeople shown on TV are male. The most popular televised sports are still the likes of men's rugby, football and cricket, and there is very little reference made to the fact that women play these sports too. There is also much less value placed on traditionally 'female' sports, such as netball and hockey."
"Having said that," she continues, "there does seem to be an encouraging trend in more prominent female role models in sport. In addition to this, female sport, such as the Netball Superleague and women's football, is receiving more coverage in the media, although there is definitely still some way to go to reach equality."
Boys are often offered a wider range of sporting activities and experiences at school, allowing them opportunities to develop an enjoyment of sports, that perhaps many girls are denied. Research commissioned by the Women's Sport and Fitness Foundation (WSFF) has shown that girls do want to be active, so perhaps it is less their attitude to sport that needs changing and more the opportunities and encouragement that they receive.
Woodhall herself has a long history of active participation in sports, which she says has partly been encouraged by the variety of sports that she has had the opportunity to play. "I hope to use my experience of enjoying sport as a female to help Tours 4 Sport reach more young girls and provide them with the type of inspiring experiences that I have been lucky enough to enjoy" she says. "We already offer a number of tours which are popular among female groups, such as netball in Malta, football in Barcelona and even rugby in Paris. It is just a case of getting word out that these inspirational experiences are out there for girls."
It is important that female participation in sport is encouraged to grow, as the benefits are clear. There needs to be greater discussion on how society's attitude affects girls and this could be covered in school PSHE lessons, as suggested by WSFF. PE should be used to boost self-confidence and positive body image in all students, and so the activities and opportunities offered to both boys and girls should reflect this.
Girls should be encouraged to view sport as both exciting and as a normal part of their life. School sports tours, like those offered by Tours 4 Sport, can combine sporting activities, such as tournaments, friendly fixtures and training camps, with other activities, such as sightseeing, cultural visits or trips to theme parks. These experiences can give students both something to look forward to and something to work towards.