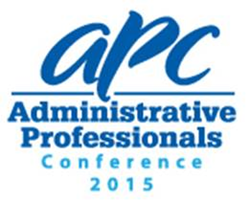 Attendees leave with new confidence, knowledge, and critical skills needed to make them more productive in their jobs and ready to take on new responsibilities
Portland, ME (PRWEB) March 30, 2015
The American Society of Administrative Professionals is pleased to announce the agenda for its 2015 Administrative Professionals Conference (APC), taking place October 4-7, 2015 at the Gaylord Texan Resort & Convention Center in Grapevine, TX. The annual conference brings together admins of all levels – from entry-level to executive assistants – for four days of the most comprehensive training and networking available for administrative professionals in North America.
The 2015 APC conference agenda comprises more than 65 workshops, keynotes, training sessions, plus bonus features, meals and receptions, and networking and exhibits. Training sessions reflect key competencies in the following: "Influential Team Member & Leader," "Proficient Task & Project Manager," "Indispensable Management Partner," "Informed Tech Guru," and "Dedicated Careerist." Further information can be found at http://www.apcevent.com\program\conference-tracks.
"As the role of today's assistant has evolved, admins everywhere need training and skills development that reflect the day-to-day reality of their jobs," said Judy Geller, Director of the Administrative Professionals Conference and the American Society of Administrative Professionals. "The APC does that by delivering in-depth, high-level live training across a multitude of subjects. Attendees leave with new confidence, knowledge, and critical skills needed to make them more productive in their jobs and ready to take on new responsibilities," she added.
The 2015 APC will kick off with a full day of ala carte workshops on October 4 before transitioning into keynotes, including Cheryl Strayed, author of the best-selling memoir, Wild, and a welcome reception in the evening. Days two and three will focus on training sessions, plus a keynote and networking each day, and a "Texas Round-Up" reception and dinner party October 7. Attendees will spend their last conference day in additional morning training sessions before the final keynote speech and ASAP's First Annual Eureka! Award. A la carte post-conference workshops and lunch for workshop attendees will conclude the conference.
Additionally, the APC produces the Executive Assistants' Summit, a "wrap-around" program for executive assistants. For more information about the EA Summit, please go to http://www.apcevent.com\executive-asst-summit.
To register for the APC or to obtain additional information, call 1-800-873-1272 or email info@apcevent.com.
About the APC
The APC is produced by the American Society of Administrative Professionals (ASAP), the largest free association and resource center for administrative professionals. Celebrating its 10th year anniversary in 2015, ASAP has grown its membership to 55,000 admins from around the world, and gives its members access to over 450 online training courses, live and on-demand webinars, a monthly newsletter, articles and features geared for admins, and a prestigious admin certificate program. ASAP is a business unit within Diversified Communications, a global organization operating on four continents and a major independent producer of events and media worldwide. For more information, visit http://www.asaporg.com.