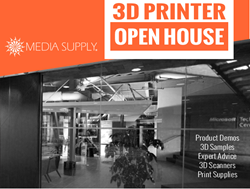 We're giving our customers the chance to come out to see 3D printing in action, so they can see real life applications and what technology is now available to help them
Exton, PA (PRWEB) March 31, 2015
Media Supply a leading supplier of data, video, archival and 3D publishing solutions, will host a 3D printing open house May 7, 2015 from 12 to 4pm at the Microsoft Technology Center in Malvern, Pennsylvania. Businesses, schools and individuals with an interest in 3D printing technology are invited to see various 3D printers and 3D scanners in action.
The 3D printing open house will feature product demos from industry leading 3D printer manufacturers, including MakerBot, Zortrax, Afinia and Robo 3D. Samples of 3D printed products will be available, including unique and functional designs, along with expert advice on using 3D print in corporate, medical and educational environments. Software design tools and 3D scanners will be available as well, so visitors can see how create their own 3D print files, as well print from established 3D print files.
"There are so many questions surrounding 3D printing, and what its capabilities," said Frank Quinlisk, Media Supply's Vice-President. "We're giving our customers and friends the chance to come out to see 3D printing in action, so they can see real life applications and what technology is now available to help them."
As one of the largest distributors of 3D print technology and supplies, Media Supply brings knowledge, experience and a wide variety of 3D printing materials and tools to this open house event. Visitors will be able to see the pros and cons of using ABS, PLA and other printer filament materials. They'll also be able to see the many colors of print filament that are available, as well as all the tools and tips that make getting started in 3D printing easier.
The Philadelphia Microsoft Technology Center is located at 45 Liberty Boulevard in Malvern, Pennsylvania. Developed as a facility to help customers overcome complex business challenges, the MTC is a perfect location for this 3D printer open house event. Pre-registration for this event is required. Attendees can register at MediaSupply.com through May 1, 2015.
About Media Supply:
Media Supply, Inc. offers 3D printer systems, scanners, supplies and consumables from the highest quality manufacturers, all designed to meet the needs of those wishing to step into 3D printing. Key products are provided by MakerBot, Zortrax, Afinia, Octave and Robo3D. Media Supply is headquartered in Exton, Pennsylvania. For more information, visit their website at http://www.mediasupply.com or call 1.800.944.4237.