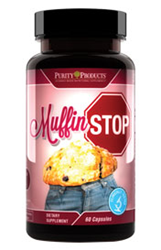 MuffinStop™ really is best-of-breed because unlike most of the weight loss supplements on the market, it actually has two product-specific studies which provide evidence of efficacy.
Plainview, NY (PRWEB) March 28, 2015
Purity Products®, a leading direct to consumer provider of dietary supplements announces the release of their revolutionary new weight loss product, MuffinStop™.
MuffinStop™ was shown in two randomized, double-blind, placebo-controlled clinical studies to be effective in reducing body weight and waist and hip size. MuffinStop™ is a combination of two traditionally used botanical ingredients, Sphaeranthus indicus and Garcinia mangostana, fused together to create one of the most innovative weight loss products the supplement industry has to offer.
Each of the two MuffinStop™ clinical trials met the Gold Standard for research on human subjects by using the "double-blind, placebo-control" procedure, which reduces bias in the minds of both the subjects and the researchers themselves. The study participants took 400 mg of MuffinStop™, or a placebo, two times a day—30 minutes before breakfast and dinner—for eight weeks. All subjects followed a standard 2,000 calorie a day diet. Everyone walked five days a week for 30 minutes. The results were convincing: Statistically-significant reductions in body weight were achieved after just two weeks. At eight weeks, subjects taking MuffinStop™ lost an average of 12 pounds in the first trial and 11 pounds in the second. Waist sizes was trimmed by over four inches in study one and study two replicated these results. Similarly, hip size was reduced by over two inches in both studies.
It's clinically-demonstrated ability to slim the stomach and hips may be due to its effect on the fat-burning hormone, adiponectin. Levels of adiponectin are known to correlate directly with the percentage of body fat. Studies show that MuffinStop™ increases adiponectin while also decreasing activity of several of the body's key biomarkers involved in the creation, growth and storage of fat. These findings suggest MuffinStop™ increases fat metabolism while simultaneously decreasing body fat accumulation.
According to Jason Kam, VP Business Development of Purity Products, "MuffinStop™ really is best-of-breed because unlike most of the weight loss supplements on the market, it actually has two product-specific studies that provide evidence of efficacy. It is a product dieters can trust to help them achieve their weight loss goals."
To learn more about MuffinStop™ and Purity Products®, please visit their website at http://www.muffinstop.com/