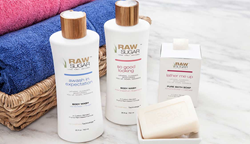 We believe that products can be more than just good for the body and safe for the environment; brands can inspire us to do more and live a fuller, happier life.
Sherman Oaks, CA (PRWEB) March 31, 2015
Raw Sugar announces the release of their line of pure bath soaps and body washes being sold exclusively in Target stores across the country. Unlike any of their competitors, Raw Sugar uses a proprietary ColdPress Technology® manufacturing process to extract more nutrients in their purest form, bringing consumers a line of bath and body products that nourish their skin and their spirit.
Made in Southern California, the coconut-based body washes and plant-derived bath soaps promise naturally soothing, thirst quenching, skin nourishing benefits without ever exposing consumers to harsh chemicals – no sulfates, no dyes, no parabens, no phthalates. Raw Sugar embodies this promise through their mantra: Living Purely Unfiltered.
"Raw Sugar was born out of the want, need, and interest to create a product that holds meaning beyond the initial consumer purchase," explains Donda Mullis, Co-Founder of Raw Sugar. "Raw Sugar emulates our life mantra: you can change your life by changing your perspective."
Raw Sugar products are designed for a complete experience. With the soft touch bottles and real bamboo caps, the consumer can literally feel the Raw Sugar difference before leaving the Target store. At home, the meticulously crafted formulas wrap the customer in a sensory experience, remaining true to the delicious scents of the natural ingredients. The Raw Sugar experience is brought full circle by nourishing the spirit of the user with inspirational messages aimed at motivating and uplifting the customer.
"We are health advocates, so our products are designed to be environmentally safe, eco-friendly, and produced with only the highest quality ingredients," adds Ronnie Shugar, Raw Sugar's Co-Founder. "However, we believe that products can be more than just good for the body and safe for the environment; brands can inspire us to do more and live a fuller, happier life. We designed the Raw Sugar experience to prepare our customers for a better day by starting them off with a smile and leaving them with naturally moisturized skin."
ColdPress Technology:
While the line is made in America, Raw Sugar uncovers unique ingredients from sustainable sources across the globe. Ingredients are chosen at the peak of ripeness, and Raw Sugar uses their ColdPress Technology® to hydraulically extract the juice and preserve all the vitamins, minerals, and enzymes.
"With our ColdPress Technology®, we leave nothing behind," says Shugar. "Because the technology is so precise, the ingredients don't get exposed to air or heat during processing, which would reduce the amount of nutrients. Using any other method would defeat the purpose of our farm-to-bottle operation. As we say, we believe in keeping more of the good stuff in."
The current line of Raw Sugar pure bath soaps and body washes can be found at select Target stores across the country and online at http://www.target.com. In the future, Raw Sugar intends to expand the current offerings with liquid hand soaps and additional beauty products. For more information on Raw Sugar and to locate Raw Sugar products in a Target store near you, please visit http://www.rawsugarliving.com.
Ronnie Shugar, Co-Founder of Raw Sugar, comes from three generations of custom formulators, who led the industry in developing natural, vegetable-based, eco-friendly bath and body products that are good for the individual and the environment. Stemming from a long tradition of being socially and health conscious, Co-Founders Ronnie Shugar and Donda Mullis continue these practices with each business decision. Together, they believe in bringing products to the market that the consumer can feel good about using.