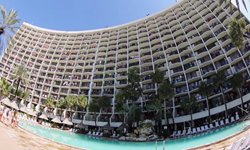 Panama City Beach, FL (PRWEB) March 27, 2015
The "Circle of Life" Tradition Continues In 2015 with tons of media attention. Each year thousands of students descend upon Panama City Beach for Spring Break and for most the first choice for a hotel is the Holiday Inn Resort. The resort is a students' top pick simply because of all the things they do to make Spring Break a special and memorable time, one of these things is the unique "Lion King" wake-up call.
Each morning at 11am the Holiday Inn's Dj takes to the pool deck to play the "Circle of Life" to wake up the students staying at the resort – but because the students enjoy this so much many of them are already awake and on their balconies awaiting the iconic start to a childhood favorite song.
"This song evokes all sorts of emotions for the students," says Philip Colvin, Director of Marketing at the Holiday Inn Resort. "It brings back memories from their childhood as well as fits with their current position in life."
Many of these students are just learning what it means to be out on their own without their parents watching over their every decision, from simple things such as what brand of shaving cream they give their loyalty to, to much larger decisions such as deciding to change their major. Each one of these students is trying to find their place in life from what careers they're striving to have to learning how to manage their laundry, work schedule, and studies. For each of these students, the Holiday Inn Resort provides a way for them all to come together just for a minute and celebrate their journey during the "Circle of Life".
"It started 3 or 4 years ago, our Dj wanted to try out something different, and while I wasn't sure about it at first I told him to give it a try as that movie would have been very popular at the time those students were growing up. The response we got from that morning was remarkable and we decided to keep it going. Now students are asking if we still do the Lion King wake-up call when they make their reservations and while checking in. It's something that they look forward to each Spring Break and each day of their stay."
One student that was interviewed said she even cried a little the first day, that it was like the entire Holiday Inn Resort family came together to sing this great song. Each day you can see students waving flags, cheering, singing, and when the song is over, at least a couple times each week they break out into chanting U.S.A.!
Dozens of media outlets have covered this unique wake-up call this year and it's gone viral on social media with millions of views. The Holiday Inn Resort says they plan to continue this wake-up call tradition for future student visitors.