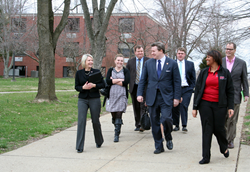 We really talk a lot about affordability right now, and you can spend half as much money here as you can at a major university anywhere across the state
RIO GRANDE, Ohio (PRWEB) March 27, 2015
State Representative Mike Duffey, chair of the Finance Subcommittee on Higher Education, visited the University of Rio Grande and Rio Grande Community College on Friday to discuss the state of higher education in Ohio.
Rep. Duffey meet with Rio Grande President Michelle R. Johnston, as well as Rio students, faculty and staff. The visit also included fellow Rep. Ryan Smith, chair of the Finance Committee, and Association of Independent Colleges and Universities of Ohio President Todd Jones.
"It's wonderful. It's a little community within itself," Rep. Duffey said after a student-led tour of the Rio Grande campus. "We really talk a lot about affordability right now, and you can spend half as much money here as you can at a major university anywhere across the state. So you're going to save a lot of money and then go straight into a four-year program. … This is exactly the kind of thing we want students to do."
Rio Grande is the nation's only combined private university and public community college. Students throughout Ohio can enroll at community college tuition rates while earning their associate's degree, and then continue for a bachelor's degree at an overall cost less than most four-year institutions in Ohio, and the region.
Founded in 1876 and nestled in the beautiful rolling hills of southeastern Ohio, Rio Grande serves as an oasis of learning, innovation and technology. The 190-acre residential campus strikes a balance of liberal arts and experiential learning to prepare students for successful lives as responsible citizens in a culturally diverse, global community. An epicenter of cultural enrichment, Rio offers students a nurturing environment focused on the needs of the individual with a student-faculty ratio of 16:1 and a plethora of extracurricular activities ranging from Student Senate to Greek life, and intercollegiate athletics.
Rep. Duffey discussed topics ranging from College Credit Plus to tuition rates, and everything in between. The Finance Subcommittee on Higher Education is responsible for House Bill 64, higher education's main operating budget.
"It was an honor to host Rep. Duffey and Rep. Smith on our campus today to discuss the issues of importance to Rio Grande and higher education in the state of Ohio," President Johnston said. "Higher education in Ohio is clearly in good hands. Representatives Duffey and Smith have a great deal of passion for and interest in higher education and the well being of students in Ohio. We look forward to working with them to continue to shape policy and programs that impact our students in a positive way."
For more information about the University of Rio Grande and Rio Grande Community College visit rio.edu or call 800-282-7201.