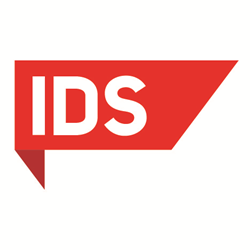 The brand refresh truly represents who we are, what we stand for, and our vision for the future" - Justin Mescher, IDS CTO
Chicago, IL (PRWEB) March 30, 2015
IDS, a data center technology integrator and cloud services provider in Chicago, IL, today announced the release of a refreshed brand identity including a new logo and website. The company also announced formalized branding surrounding their cloud services offerings featuring archiving, backup, disaster recovery and infrastructure solutions.
Matt Massick, CEO at IDS, explained that IDS was originally founded with a sole focus on data center services, but has since naturally grown to offer cloud solutions and IT consulting due to customer demand. He believes the brand refresh will better reflect the current and future direction of the company.
Massick says, "Over the last 12 years we've expanded to the point where we've inadvertently outgrown our branding. The new IDS identity reflects our forward-thinking outlook and our expansion into cloud services and IT consulting as complimentary offerings to our data center integration services. We are incredibly excited about combining the core values that have made us successful and a refreshed look for a new IDS."
The newly launched IDS brand and website features a sleek, user and mobile friendly experience. Visitors will find a transformative new look including a new logo, modern website and formalized branding surrounding the IDS Cloud services offerings.
Justin Mescher, CTO at IDS explains, "After many years of rapid growth, we took a step back to look at what is great about IDS and realized our branding and web presence didn't match the same level of excellence as the service we deliver to our customers. The brand refresh truly represents who we are, what we stand for, and our vision for the future."
Mescher explained the significance of the formal branding of the IDS Cloud offerings. He says, "We wanted our IDS Cloud branding to match the caliber of our services, and the brand refresh seemed like the perfect time. We believe that the new identity of the IDS Cloud solutions will increase awareness and continue to drive our exponential growth." With this new look and continued growth, the focus of the IDS Cloud remains on highly customized solutions and personalized customer service.
Explore the newly launched website and branding by visiting http://www.idsforward.com.
About IDS
IDS is a data center technology integrator and cloud services provider backed by an award-winning IT consulting practice. IDS works with a select list of industry leading technology partners to deliver custom IT solutions. Primary areas of focus are storage, data protection, disaster recovery, data analytics, virtualization, mobility, networking, servers, security, managed services, and cloud. Headquartered in Chicago, Illinois, IDS has experienced incredible growth since being founded in 2002. IDS has established a reputation of moving IT forward through solutions that provide improved efficiency, flexibility, performance and a competitive advantage. For more information about IDS, visit http://www.idsforward.com or call 312.334.6400.