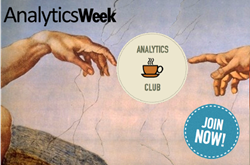 Our mission is to make available wide variety of toolsets to help today's data scientist learn the art of analytics faster than ever before. - Sachin Bhate
Boston, MA (PRWEB) March 30, 2015
A good business is comprised of three fundamental ingredients: people, process and product. A right mix would go a long way in differentiating a good business from a bad business. Similarly, a good analytics driven business has 3 primary dimensions - people (modelers, coders & business), product tools (BI, Big Data, Streaming Tools etc.) and processes (Data driven processes). Communication, a key factor for the success of any project, has been severely underestimated in business processes and deserves its own dimension. Communication, being the 4th dimension, will help businesses improve their processes with a renewed outlook.
Data Science, being a data driven phenomenon, is all the more vulnerable to this communication problem. Results and impacts could be felt instantaneously. AnalyticsWeek looked at the problem of communication from the same lens. After several deliberations between AnalyticsWeek's 8000+ community members and 90+ businesses, AnalyticsClub was born. AnalyticsClub has one mission and one mission only: Being a go-to platform to help data professionals ace the art of analytics and stay closest to the current best practices and trends. Such a platform can be further extended to help out with the early discovery of tools, talent and best practices for subscribers.
With a renewed platform, AnalyticsClub will take on the ambitious challenge of providing a go-to platform for data science professionals to interact with other top data science professionals and crowd learn their way to success. AnalyticsClub, in its first stage, will address the community in open format. AnalyticsClub's online platform compliments local Analytics Club chapters in 10 cities. In the second stage, closed models will be built to connect businesses internally to help leverage company's workforce to crowd collaborate to success. Along the journey, we will listen hard to our community's experiences and thoughts on how to improve the functionality and keep the platform feature rich to the benefit of the participating community.
We are rolling out AnalyticsClub's online chapters and are currently inviting academic institutes and small-mid size businesses to take advantage of this community building collaboration tool to connect with other professionals and grow together. AnalyticsClub will provide 90% of the features free to members with the remaining 10% features to be made available to paid subscribers.
As per the company's COO Sachin Bhate, "Our mission is to make available wide variety of toolsets to help today's data scientist learn the art of analytics faster than ever before. We will strive to make most of our learnings from our rapidly growing community to our tools and make them available through our platform."
Company's chief Vishal Kumar suggested: "While we are thankful for the privilege that we've got in working with 90 top data analytics businesses and 8000+ top and curious data science teams, we want to make sure we deliver to their faith and trust in our platform. AnalyticsClub is a direct result of our consistent learnings within data science community and we are acting fast in putting those learnings to action. We are blessed with lots of friends and supporters and always excited to produce these tools to help them stay successful and relevant in this rapidly changing ecosystem."
AnalyticsClub is open for registration and free to sign-up. Paid features are in closed alpha and under the innovation labs for now. AnalyticsWeek will be rolling out its premium features starting third quarter of the year.
Link: http://analytics.club
About AnalyticsWeek:
AnalyticsWeek is a go-to All Things Analytics Platform connecting Businesses and Professionals. With online platforms and offline programs, AnalyticsWeek connects data science professionals and businesses around best practices, use cases, latest data analytics trends and cutting edge technologies to help professionals grow quickly in this rapidly evolving world of data science.