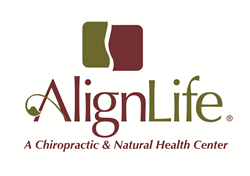 National (PRWEB) April 01, 2015
Every day a new diet fad is introduced in America, the S.A.D. (standard American diet) contains things banned in other countries, and the diagnosis of American's with chronic illness sky rockets every year. AlignLife Chiropractic & Natural Health Centers believe that by educating not only their patients but also their communities they can reduce the future development of obesity and many other debilitating illnesses. Throughout the year each AlignLife clinic offers workshops at no charge in their clinics. Because yo-yo and fad dieting is such a wide spread trend that is negatively affecting millions of people, AlignLife will be hosting "Three Secrets to Weight Loss" the third week of the month. To find out the exact date and location of a workshop near you please visit http://AlignLife.com and locate the clinic of choice and give the clinic a call to reserve a seat.
ABOUT ALIGNLIFE
AlignLife is a chiropractic and natural health franchise founded in 2007 with the mission to provide the highest quality of natural healthcare services to communities around the nation. The integration of chiropractic with other natural health services has proven to save time and money while reducing the hassles of dealing with the complex American health care system.