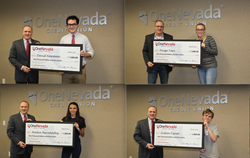 One Nevada Credit Union is proud to recognize the academic achievement and community efforts of these individuals and we are pleased to present each of these talented students with an ONCU Community Leadership scholarship, said Michael Traficanti, Senior
Las Vegas, NV (PRWEB) March 31, 2015
One Nevada Credit Union is pleased to announce the winners of their 2015 Community Leadership Scholarships. After a tremendous response and difficult selection process, an independent scholarship committee chosen by the Clark County School District, selected four students to receive a $1,000 scholarship for the upcoming academic school year.
The Scholarships are awarded annually to eligible students as a way of recognizing and rewarding graduating high school seniors that have contributed to the community through their volunteer and leadership efforts. The $1,000 cash award can be used for educational expenses at the discretion of the recipient. Applications are judged on academic achievement, leadership, career goals, quality of answers to the leadership essay questions, and the scope of the student's community activities.
The list of recipients below visited One Nevada's corporate office last week to accept their awards, take photos and receive life-size checks.

David Newman is a student at Sage Ridge School in Reno, Nevada where he is co-captain of the varsity soccer team, President of the student government and involved in the high school theater program. David volunteers his time to the Big Brothers/Big Sisters organization and has a cumulative GPA of 4.37.
Paige Tarr is a student at Valley High school in Las Vegas, Nevada where she is a four sport varsity athlete and a member of the National Honor Society. Paige is a member of ROTC Bravo Company and serves as the Commander. In her spare time Paige volunteers for a number of community charities and organizations.
Aidan Elsner is a student at Advanced Technologies Academy in Las Vegas, Nevada. Aidan's academic focus is in the computer science field. Aidan has participated in several internships including one at Harry C. Levy Gardens, a veteran's retirement home where he assisted its patrons with computer issues. Academically, Aiden is ranked in the top 25% of his graduating class.
Nadia Hernandez is a student at Northwest Technical Academy in Las Vegas, Nevada where she has served as a student aide, and tutor. Nadia has a cumulative GPA of 4.46, is a member of the National Junior Honor Society and plays competitive club soccer. When not at school Nadia helps out with local catholic charities through her church and coaches for the Silver State Girls Soccer League.
"One Nevada Credit Union is proud to recognize the academic achievement and community efforts of these individuals and we are pleased to present each of these talented students with an ONCU Community Leadership scholarship", said Michael Traficanti, Senior Vice President of Human Resources.
Background information:
With $800 million in assets, One Nevada Credit Union is the largest locally owned, federally insured Credit Union in the state. It is one of the strongest, well-capitalized credit unions in the country with more 10.9% net worth. One Nevada has 15 branches and over 65 ATMs and serves over 75,500 members. Membership is open to all residents of Clark County, Washoe County and Nye County. The National Credit Union Administration, a U.S. Government Agency, insures member deposits at One Nevada. For more information, visit https://www.onenevada.org.