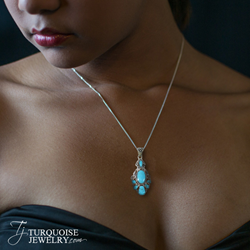 In addition to the large, layered necklaces, we also brought in sizeable, geometric-shaped earrings with turquoise framed in silver. The theme this year is top heavy – big necklaces, big earrings
Phoenix, AZ (PRWEB) March 31, 2015
TurquoiseJewelry.com, an online leading supplier of turquoise jewelry and accessories for traditional and modern styles has updated their stock to fit with Cowgirl magazine's report for this year's must-have festival turquoise trends.
The throwback 60's style of Woodstock is seen at all summer festivals, as evidenced by stars like Mary-Kate and Ashley Olson sporting fringe ponchos and Selena Gomez's faux-straw brimmed hat seen at 2014's Coachella event. As the southwest events approach, TurquoiseJewelry.com is prepped to supply concert goers with the hottest in turquoise pieces seen in one of the top western-style magazines.
The newest jewelry must-have seen in their LookBook? Long, chic pendants featuring turquoise gems in large, ornate shapes. Though according to Cowgirl, a pendant alone simply won't do – layered above the pendants are multiple beaded, chunky necklaces featuring turquoise, silver, and even copper.
"As soon as we saw the photoshoot, we went to our vaults and found the best matches for this year's festival styles," said TurquoiseJewelry.com spokesperson Jack Burch. "Half the fun of a true western festival is sharing a space with thousands of other people in cowboy boots, turquoise jewels, and a love for Tim McGraw."
Upcoming shows include Country Thunder, Tortuga Music Festival, Stagecoach, Shaky Boots, and Country Jam. These festivals are highly anticipated according to Cowgirl and each year, a LookBook is released to feature what styles one is likely to see at the event.
"In addition to the large, layered necklaces, we also brought in sizeable, geometric-shaped earrings with turquoise framed in silver. The theme this year is top heavy – big necklaces, big earrings," said Burch. "To balance it out, we've added more delicate, beaded turquoise bracelets to match the necklaces without drawing the attention away from the pieces. "
TurquoiseJewelry.com is dedicated to bringing beautiful and quality turquoise pieces, both for every-day wear and collectible authentic Native American jewelry directly from famous Native American artisans.
"We've made a big push to bring out these newest styles in time for the summer festivals, and we're sure many people are going to be excited to have affordable, quality jewelry for these events," said Burch. "You can wear anything and be a true cowgirl at heart, but it's definitely a bonus to look the part, too."
About TurquoiseJewelry.com
TurquoiseJewelry.com is an online leading supplier of turquoise jewelry and accessories including necklaces, rings, earrings, pendants, bolo ties, and more. TurquoiseJewelry.com is not affiliated with Cowgirl magazine or any festivals noted above. TurquoiseJewelry.com ships to all 50 states and supplies some of the more affordable turquoise jewelry available. TurquoiseJewelry.com carries trendy jewelry along with authentic Navajo, Hopi, and Zuni pieces made by Native American artisans. For more information, visit TurquoiseJewelry.com.