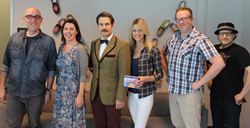 Midroll is committed to providing great original audio, and this spring we have some wonderful new shows lined up.
Los Angeles, CA (PRWEB) April 01, 2015
Midroll Media, the leading digital media company providing a 360-degree suite of podcast production, distribution, and monetization services to artists, entertainers, and thought leaders, announces its spring rollout of four brand new shows: Spontaneantion with Paul F. Tompkins, CARDBOARD! with Rich Sommer, The Black List Table Reads, and Womp It Up! They debut throughout the month of April to be added to its slate of programming. The new shows underscore Midroll's ongoing strategy of working with the best talent to develop original, entertaining, and innovative podcast programming, while expanding the breadth of its podcast audience.
Host, comedian, and actor Paul F. Tompkins; actor Rich Sommer; innovative film executive Franklin Leonard; and actresses and improvisational comedians Jessica St. Clair and Lennon Parham bring their unique and highly anticipated podcast shows to the company's owned-and-operated comedy and pop culture sites, Earwolf and Wolfpop. The unveiling of the new slate of podcasts continues to highlight the unprecedented momentum of both the medium of podcasting and Midroll Media.
"Midroll is committed to providing great original audio, and this spring we have some wonderful new shows lined up. Comedy fans who love Comedy Bang! Bang!, With Special Guest Lauren Lapkus, and Improv4humans will be excited to know they can now get new, weekly shows from favorite performers Paul F. Tompkins, Jessica St. Clair, and Lennon Parham," said Chris Bannon, Chief Content Officer for Midroll. "And our new Wolfpop shows mirror two major pop culture passions: Rich Sommer's CARDBOARD! celebrates the huge community of board game fans; Franklin Leonard's Black List Table Reads captures the imagination with pure audio storytelling, with performances of some of Hollywood's most desirable scripts."
Spring Rollout of Fresh, Original Shows for Earwolf & Wolfpop--Spontaneanation Leads the Charge.
Throughout the month of April, Midroll introduces shows hosted by Earwolf fan favorites like Tompkins, whose show leads the pack with a debut on April 1st, then releasing on Mondays following launch. Both Tompkins' and St. Clair's shows join Earwolf's comedy fold, curated by Scott Aukerman, while Sommer's and Leonard's shows join its sister site, Wolfpop, curated by Paul Scheer, as the first new shows on the network since its launch in November 2014. See below for show descriptions.
April 1st - Spontaneanation with Paul F. Tompkins:
Paul F. Tompkins has appeared on Earwolf more than any other guest, and for good reason. He's been writing and performing comedy for twenty years, racking up a countless number of accolades. Longtime podcast comedy and improv all-star Paul F. Tompkins hosts Spontaneanation. It's a completely improvised show, from monologue to interview, to long-form sketch. Join Paul, his special guests (including Michael Sheen, Aimee Mann, Kaitlin Olson, and Dave Foley), and his incredibly talented friends from the world of improv--hailing from The Thrilling Adventure Hour, Superego, and other first-rate Los Angeles collectives--for an hour of comedy that none of them ever see coming. Fans can catch new episodes of Spontaneanation Mondays on http://www.earwolf.com.
April 9th - CARDBOARD! with Rich Sommer:
Actor and new podcast host Rich Sommer loves board games. But we're not talking about the stuff of your grandparents' rec room--things have changed a lot since people started to gather around the bridge table. Whether you're a serious player or a newbie, give a warm welcome to your personal board game evangelist. Ty Burrell of ABC's Modern Family joins Sommer for the fun as his first guest on episode one. Grab your game of choice, discover a new one, and get your cocktail pairings ready for CARDBOARD! with Rich Sommer, coming every other Thursday on http://www.wolfpop.com.
April 16th - The Black List Table Reads:
The Black List Table Reads takes the best and most exciting screenplays Hollywood hasn't yet made, and turns them into movies for your ears. Black List founder Franklin Leonard presents a new script every month, read by a rotating cast of talented actors, along with interviews with members of the Hollywood screenwriting community and beyond. The first featured script read for episodes 1-4 is Balls Out, written by Malcolm Spellman (producer of Empire) and Tim Talbott (winner of the 2014 Sundance Waldo Salt Screenwriting Award). Follow the coveted stories as they unfold on The Black List Table Reads Thursdays on http://www.wolfpop.com.
April 20th - Womp It Up!
Womp It Up! is the latest spin-off of Comedy Bang! Bang!, featuring Jessica St. Clair and Lennon Parham in character. The show joins the ranks of other Comedy Bang! Bang! offspring The Andy Daly Podcast Pilot Project and With Special Guest Lauren Lapkus. St. Clair and Parham also created and star in the critically acclaimed Playing House on the USA network, which was recently renewed for a second season.
So slather cream cheese all over your Digiorno and get ready to get WOMPED because everybody's favorite intern, Marissa Wompler (St. Clair) is throwing on the cans for her brand new school project podcast Womp It Up!. Her teacher/mentor/co-host/former sniper, Charlotte Listler (Parham), will be there to DJ and divvy out love advice, joined by other special guest stars. Get a front-row seat to the madness of the Marina Del Rey lifestyle! Catch all of the antics bi-weekly, Mondays on http://www.earwolf.com.
Audiences & Advertisers 'Hungry' for New Content & Listening Experiences
As mainstream awareness continues to grow, the appetites of both audiences and advertisers grow, too. Last month Edison Research's The Infinite Dial 2015 reported that "monthly audio podcast consumption grew from approximately 39 million monthly users in 2014 to approximately 46 million in 2015."
The surge in popularity of the podcast medium has also caught the interest of advertisers who are attracted by the authenticity and intimacy of the native advertising experience created by host read and fan-appreciated ads. While the business of podcast ads continues to evolve, podcasts as entertainment are drawing larger numbers-- and brands want to be where audiences are flocking.
Midroll, recognized for its expertise in monetization and its relationships with both brands and podcasters, represents more than 200 podcasts to advertisers, including shows on its owned-and-operated networks along with other popular off-network favorites. With the challenge of keeping inventory high as advertiser demand for shows skyrockets, the newest programs from Earwolf and Wolfpop all debut this month with launch partner advertisers: Audible, Cards Against Humanity, Harry's, Loot Crate, MeUndies, R&R Games, Squarespace, and Xero.
"Just as audiences are listening to our shows, we're listening to and learning from them as well. Earwolf and Wolfpop provide key insights for us, allowing us to delve deeper into new episodic shows and serialized storytelling," said Midroll Media CEO Adam Sachs. "We are supremely excited to welcome the newest members of our growing creative family, in order to delight audiences old and new with the newest shows."
All Earwolf and Wolfpop podcasts are available for streaming on iTunes and Soundcloud.
Additional promotional assets, including logos, images and audio clips for media use can be found here.
About Midroll Media
Midroll Media is a digital media company providing a 360-degree suite of production, distribution, and monetization services to artists, entertainers, and thought leaders. It is the parent company of Earwolf, the leading comedy podcasting network, the Wolfpop pop-culture podcast network, and the Midroll advertising platform. Midroll offers the industry's first user-focused, self-service platform for both advertisers and podcasters to buy, sell, and manage podcast ad inventory. Advertisers have access to more than 200 of the most well-known and downloaded podcasts on the internet. Midroll is online at http://www.midroll.com.
About Earwolf
Launched in 2010, Earwolf is the leading comedy podcast network, producing and distributing many of the most popular comedy podcasts available, including Comedy Bang! Bang!: The Podcast, How Did This Get Made, and Sklarbro Country. Earwolf, co-founded and curated by comedy mastermind Scott Aukerman (Between Two Ferns with Zach Galifianakis, IFC), is known for its smart, edgy, and high-concept audio comedy performed by the most talented comedians in the world. We don't discuss comedy, we create it - and we create it with the best. Earwolf's shows are downloaded more than 6.7 million times a month and have been recognized for excellence by USA Today, Rolling Stone, and the Onion A/V Club. Learn more and listen to Earwolf shows at: http://www.earwolf.com
About Wolfpop
Launched in November 2014 by Midroll Media, Wolfpop is the digital media network redefining popular culture podcasting with a lineup of shows that digs deep into Hollywood and entertainment with wit and insight. Curated by actor, comedian, and podcaster Paul Scheer (The League, NTSF:SD:SUV:, How Did This Get Made?), Wolfpop features host-driven programs that give world-class and rising talent an unfiltered platform to share their passions and stories with humor and depth. For additional information, please visit: http://www.wolfpop.com