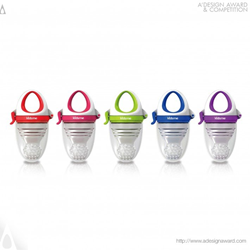 Como, Italy (PRWEB) March 31, 2015
A' Design Award and Competition is pleased to announce that the design project Food Feeder Plus by Justin Cheung has been announced as a winner of the Golden A' Design Award in Baby, Kids' and Children's Products Design Competition Category.
Details of Food Feeder Plus
Justin Cheung, the project leader of the awarded Baby Products project Food Feeder Plus demonstrated "The Food Feeder Plus not only helps children to eat alone, but also means more independence for the parents. Babies can hold by themselves and suck and chew it after you have crushed food made by parents. The Food Feeder Plus features with a larger, flexible silicone sac to satisfy babies' growing appetite. It is a feeding essential that and allows little ones to explore and enjoy fresh solid food safely. The foods do not need to be pureed. Simply place the food into the silicone sac, shut the snap lock, and babies can enjoy self-feeding with fresh food." To learn more visit: https://competition.adesignaward.com/design.php?ID=32466
Team Members for Food Feeder Plus
Food Feeder Plus was imagined by Herman Lo and Justin Cheung
The Golden A' Design Award
The Golden A' Design Award is a prestigious award given to top 3% percentile designs that has accomplished an exemplary level of perfection in design. Entries to the A' Baby Products Design Award are peer reviewed and anonymously judged by an expert jury panel of prominent scholars, design professionals and press members. Laureates of the A' Baby Products Design Awards are given the coveted A' Design Prize which includes a series of PR and publicity tools such as inclusion in World Design Rankings, Best Designers list, as well as the award trophy, yearbook, design excellence certificate and gala-night & award ceremony in Italy.
About A' Design Award and Competition
A' Design Award and Competition is organized and awarded annually and internationally in all creative design categories to reach a wide, design-oriented audience. Award winning works are translated to all languages in order to create a global awareness for good design practices and principles. The ultimate aim of the A' Design Accolades is to create incentives for designers, artists, architects, brands and product manufacturers to come up with superior products and projects that benefit society. To learn more about the A' Design Awards please visit: http://www.whatisadesignaward.com