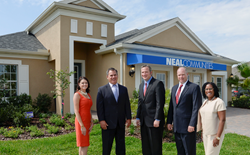 "We are confident that our homes will present tremendous value in this market with a variety of options to choose from and feature homes ready for immediate occupancy."
RIVERVIEW, Fla. (PRWEB) March 31, 2015
Neal Communities southwest Florida's premier homebuilder, made its debut into the Tampa Bay new home market with the opening of a new model at The Reserve at South Fork, an exclusive gated section with a limited number of homes inside the South Fork community, featuring lush landscaping and homesites with water and preserve views.
Neal Communities will offer homes from its popular Cove and Classic Series at South Fork, ranging in size from 1,870 – 2,980 square feet. The professionally decorated and furnished Daybreak model, located at 13849 Moonstone Canyon Drive, opened this weekend. It features 2,232 square feet and showcases three bedrooms, two bathrooms and a three-car garage.
Neal Communities sold a company record 864 new homes in 2014, with $276 million in revenue and nine new communities between Manatee and Collier counties. This year represents the beginning of an aggressive five-year growth plan for Neal, with entrance into four new communities in Hillsborough County, the first Hillsborough homes Neal has ever built.
"Our team has been gearing up for our entrance into Hillsborough County for some time, and we look forward to welcoming Tampa Bay homebuyers into the Neal family," says Michael Storey, Neal Communities' president. "We are confident that our homes will present tremendous value in this market with a variety of options to choose from and feature homes ready for immediate occupancy."
Residents will enjoy use of the South Fork community pool, tennis courts, playground and other amenities. With a fantastic location close to shopping and dining, Riverview is convenient not only to the Tampa Bay metro area, but also to St. Petersburg and the Sarasota/Bradenton area via I-75 and the Orlando metro area via I-4.
About Neal Communities
Neal Communities was named one of 2012's "America's Best Builders" by BUILDER Magazine and voted the "2013 Best Residential Builder in Southwest Florida" in a readers' poll sponsored by Gulfshore Business Magazine. The company is ranked No. 1 locally by Metrostudy and by Hanley Wood Market Intelligence based on number of home sales and ranked nationally among the top 50 builders by BUILDER Magazine. To date, Neal has built over 10,000 homes in southwest Florida. As the area's largest and most established, locally owned and operated private builder, Neal Communities is continually striving for excellence in every aspect of the home building and development business. Neal Signature Homes, Neal Land Ventures, Charlene Neal PureStyle, Waterscapes Pools & Spas, Fiducia Insurance and Allegiant Title Professionals all contribute to the firm's continued, record-setting local success. The company's honors and accolades include 42 Parade of Homes 2014 awards, 50 Aurora Awards, 5 Best in American Living Awards, and hundreds of local and regional industry awards. For more information, please visit http://www.nealcommunities.com.